Matt LeBlanc's 'Episodes' earns a fifth season Matt LeBlanc's Episodes earns a 5th season
The Showtime comedy will begin filming Season 5 in London in 2016.
The Jinx creators break their silence, call Robert Durst a "strategic killer"
"Murder is one possibility to solving a problem — you always had to be attentive to that," says Andrew Jarecki. "But the man, in our view, is not just a random killer. He's a strategic killer and won't put himself at risk unless he thinks there's an upside. I think we were doing what Bob wanted us to do."
Starz renews Powers for Season 3
The renewal comes following the show's record-high Season 2 premiere.
ABC announces fall premiere dates
The Muppets kicks off Sept. 22, and Shonda Rhimes' "Thank God It's Thursday" dramas return Sept. 24.
George R.R. Martin has yet to write this week's controversial Game of Thrones scene in his books
Martin raised questions over whether that brutal scene will actually appear in the books when he responded to a question about it this morning, stating: "If I start to comment on what might or might not happen in scenes that I have not written yet, I will be 'spoiling' my own books." In a later blog post, Martin wrote that he's not responding to questions about the TV show: "Meanwhile, other wars are breaking out on other fronts, centered around the last few episodes of GAME OF THRONES. It is not my intention to get involved in those, nor to allow them to take over my blog and website, so please stop emailing me about them, or posting off-topic comments here on my Not A Blog." PLUS: Peter Dinklage & Emilia Clarke are having fun now that they're finally working together.
The Bachelor Chris Soules is headed to Food Network
Soules has begun taping Worst Cooks in America: Celebrity Edition.
Wacky and controversial Raven-Symoné just might save The View
Raven-Symoné is "absolutely insane," says Kevin Fallon. "She may be woefully uninformed. But she's a freaking hoot. She's the perfect hire to save a struggling, ratings-starved View."
Bachelor in Paradise's Season 2 cast revealed
The cast will include four eliminated bachelors from this season of The Bachelorette, plus a "mystery woman."
Fear the Walking Dead adds another mystery role
Colman Domingo will recur on the AMC Walking Dead companion series.
Bradley Cooper to produce Syfy's Hyperion event series
Cooper will help develop Dan Simmons' bestseller set on the eve of Armageddon.
'90s cartoon ReBoot is getting a reboot
The first fully computer animated television series is coming back as ReBoot: The Guardian Code, mixing in live footage with computer-generated sequences.
Mark Consuelos joins Kingdom's 2nd season
He'll play an ex-fighter on DirecTV's MMA drama series.
Lip Sync Battle is staging a live performance in Central Park
Producers want to see if the Spike TV hit can be made into a live show.
Showtime to air former NFL star Tony Gonzalez's documentary
Play It Forward, a documentary on Gonzalez's rise to becoming a future Hall of Famer, has been acquired by Showtime.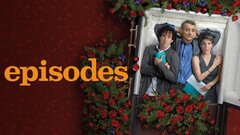 Powered by