Orange Is the New Black: Where We Left Everyone Before Season 3
It's a good thing forgetfulness isn't a crime, because even the most dedicated Orange is the New Black fans might not be able to recall where the show left off in Season 2. (Hey, there's a lot of characters and a lot of story lines going on!) Before Season 3 of the acclaimed Netflix dramedy arrives Friday, here's a reminder of where we left 10 key Litchfield inmates and staffer:
Piper
After getting out of the SHU, convincing Caputo to stop her transfer, and learning that her ex-fiance Larry (ugh, Larry) and ex-best friend Polly (ugh, Polly) are in love, Piper opted to get her revenge … on Alex. Yes, that old merry-go-round. Piper pleaded with Polly to call Alex's parole officer and have her tell them she's violating her probation. Thus, Alex will go back to jail and, presumably, back to her.
Alex
After making the critical mistake of visiting Piper at Litchfield and trusting her with any bit of information, a terrified and paranoid Alex found herself pointing a gun at her parole officer who unexpectedly showed up at her door. This does not bode well.
Crazy Eyes
Poor, poor Suzanne. She spent the bulk of Season 2 falling under the manipulative spell of Vee, who knew exactly what she could get out of the impressionable inmate. It got so bad that Vee convinced her to think she was the one who beat Red to a pulp with a slock, ensuring that Crazy Eyes would take the fall for Vee's crimes. Thankfully, investigators eventually realized that Suzanne wasn't their culprit, but Suzanne was still left heartbroken when she discovered Vee had escaped.
Red
After getting slocked by her nemesis Vee, Red landed in the hospital with some pretty nasty injuries. Still, despite the pleas from all those around her (including her unlikely pal Sister Ingalls) Red refused to snitch.
Taystee
Taystee's world was turned upside down when her former mother-figure Vee entered Litchfield. When she regressed to her childhood insecurities and catered to Vee's every demand, it put a strain on her relationship with her BFF Poussey, who refused to fall in line with Vee's regime. Taystee eventually freed herself from Vee's grasp and made things right with Poussey. Phew.
Vee
The villainous Vee, who turned Litchfield into a war zone, made her great escape after putting Red in the hospital. Unfortunately for her (and fortunately for everyone else), cancer-stricken Miss Rosa was making her own great escape in a stolen prison van and ran down the "always so rude" Vee, leaving her for dead. The reign of terror that plagued Season 2 was gone, and we had the oh-so-awesome Miss Rosa—who went out on her own terms—to thank for it.
Nicky
Nicky got Big Boo to tell her where to find Vee's hidden heroin stash, intending to take revenge for what happened to her prison mama Red. But what Nicky will do with her drug of choice (and the Vee smoking gun) remains to be seen.
Pennsatucky
The softer, saner Tiffany Doggett has not only a brand new haircut (courtesy of Sophia) but a brand new crew: After drifting from her old laundry-room friends Leanne and Angie, she found a connection with Healy and his Safe Place support group.
Bennett
Daya's real baby daddy (sorry not sorry, Pornstache) could no longer keep his love a secret and confessed everything about his illicit inmate relationship to his boss. But Caputo threatened to send Daya to a maximum security prison if Bennett uttered a word of it to anyone else.
Caputo
After busting (and shaming) Fig for her corruption and taking her job, the new Executive Assistant to the Warden quickly realized he has a lot on his plate, including an escaped inmate, a gaggle of protesting nuns, and a corrections officer/inmate affair. Never a dull moment at Litchfield.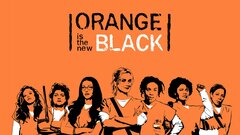 Powered by