5 Ways Kylie Jenner Is Just Like Your Best Friend IRL
A picture may tell a thousand words, but a spin-off reality TV series says a million more. Kylie Jenner's Life of Kylie depicts a side of Kylie that her social media can't—specifically, the relationship between her and her glam squad. Even though it's hard to imagine your life is similar to Kylie's in any aspect, the premiere episodes of Life of Kylie surprisingly show that Kylie is a lot like a typical BFF in real life.
Here are five aspects of being a best friend that Kylie exhibits in her new TV show.
She talks about boys, high school, life
Kylie might seem to be living the perfect life, but every now and then, she and her friends need to vent. In the premiere episode, Kylie and her crew are excited to attend a fan's prom, and they bond over a lack of high-school experiences. The group also discusses nonstop Kylie's date, Albert, in the days leading up to prom. If you forget about Kylie's fame, money and success, she seems exactly like a normal, giddy teenage girl attending prom for the first time.
She helps with first-date protocol
First dates can be unpredictable, so it's reassuring to have your best friend on your side. Kylie sets up Jordyn Woods (her longtime BFF) on a blind date and talks to Jordan through an earpiece (James Bond-style) from the car in the parking lot. If your best friend wouldn't go to the same lengths for you, it's time to reevaluate your friendship.
She's not afraid to get silly
Kylie appears sexy and collected in most of her photos online, but like you and your friends, Kylie isn't afraid to be silly with her closest. From wearing wheelies on the beach to singing and dancing in Snapchats, Kylie releases her inhibitions to get to a comfortable weirdness onscreen. Yes, you can expect the humor and eccentricity of 14-year-old Kylie to make a reappearance in this series.
She seizes every photo op
Her 96 million Instagram followers (and counting) is evidence that Kylie knows how to take the perfect picture. But as much as she loves being in front of the camera, she also loves being behind it and taking photos of her friends. She makes sure they look their best like a good friend would and gasses them up in the process.
She would help you bury a body
Blood may be thicker than water, but friendship is thicker than both. We're not saying that Kylie helps Jordan get away with murder in the first episode, but if the opportunity arose, Kylie wouldn't hesitate. She goes above and beyond for her squad, including flying out her hair stylist's boyfriend to Sacramento so the two could go to prom together. If that's not friendship, then we don't know what is.

Life of Kylie, Series premiere, Aug. 6, 9/8c, E!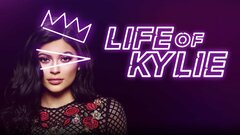 Powered by