Jim Bob and Michelle Duggar Say Daughters 'More Victimized' by Media Than Molestation
Jim Bob and Michelle Duggar appeared on Fox News' The Kelly File last night for an exclusive interview with Megyn Kelly, a natural arena to tell their side of the story currently dominating the news cycle.
The family, whose claim to fame before now was TLC's docuseries 19 Kids and Counting, made headlines when news emerged that eldest son Josh had molested five girls—four of whom were his sisters—when he was a teen. TLC has pulled reruns of the show, which had just concluded its 10th season.
Kelly conducted the interview in Arkansas, giving them home field advantage, and Jim Bob and Michelle did their best to shore up their image as victims of a media witch hunt predicated on illegally released police reports.
But as with most interviews with reality TV celebrities, what is most telling is what is not said. There were few specifics in any of their answers regarding their own actions after their son confessed to them he had been molesting his sisters. There was much talk of "safeguards" put in place to prevent further incidents—safeguards which apparently did not work—but no elaboration on what that meant. Josh was sent to "a man who mentors other men," who ran a Christian training center, but only after an incident with a five-year-old sister.
The emphasis placed by the Duggars on their son's goodness came at the expense of showing anything resembling concern for their daughters. Even when Kelly tried to steer the Duggars in the direction of the real victims in this situation—the molested girls—it was clear the Duggar house was Josh's world; the girls just lived in it:
Kelly: As a parent, did you feel guilty, when you learned his behavior has continued, and other girls in the house had become victims?
Jim Bob: Yes. We, I think, as parents, you feel like a failure when one of your kids has done something wrong. … But the truth is that kids will make their own choices. They will make their own decisions, even when you've taught them what's right and wrong.
Kelly: I'm talking about… I'm asking you more as the father of your girls, than as the father of Josh. It must have been very hard to look at your little one and know that the behavior had been ongoing, as difficult as your position was.
Jim Bob: Right. I was so thankful, though, that Josh came and told us. And our girls, even though this was a very bad situation, as we've talked to other families who have had other things happen, a lot of their stories were even worse…
The two then spoke at length about taking Josh to the police, where he spoke with an Arkansas State Trooper (now serving a 56-year prison sentence after being convicted on child porn charges) who "put the fear of God" into the boy, not mentioning the impact on the girls. A few minutes later:
Kelly: The counseling Josh got in that treatment center: Was that the only treatment Josh ever received, and what about your daughters?
Jim Bob: No, no. Josh actually went and had complete—
Michelle: —professional, yeah all—
Kelly: Real, licensed therapist counseling?
Michelle: Yeah, yeah, all of our children had complete professional counseling, including Josh, who paid for his own counseling.
As for what was said, it's hard to pick the most grotesque example of intentional delusion.
Perhaps it was the couple's numerous protestations that their daughters didn't understand what was happening.
Or when Jim Bob actually said, describing Josh's first confession, "We were devastated. Again, this wasn't rape or anything like that. This was touching over the clothes, it was like a few seconds."
Or Jim Bob helping Michelle weasel out of a question about transphobic robo-calls she's made in the past that implied transgender people are child molesters, by quibbling over the meaning of the term "pedophile."
Or Michelle's aggrieved words towards the end, as Kelly lobbed softballs about the Duggars' possible pursuit of justice over the leaked police reports: "My heart breaks for my girls, because they've been more victimized more the last few weeks than they were 12 years ago."
Two of those girls, Jill and Jessa, also spoke with Kelly for an interview that'll run Friday night. The tease for the show has Kelly asking leading questions about victimhood; there has been talk of a possible spin-off focused on the two sisters.
This interview was merely an attempt to reach out and reassure their base. The pillorying via Twitter, the disgust of the mainstream media—that's simply not the Duggars' concern. As Kelly uncovered, it doesn't matter to the Duggars if advertisers flee, or if TLC dumps their show. "We are fine whether they film us or not," Jim Bob said. "We're at peace," added his wife.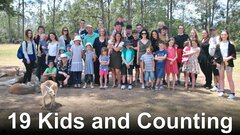 Powered by