Sex&Drugs&Rock&Roll: Denis Leary on Playing an Aging Rocker and Smoking With David Bowie (Summer Preview)
In FX's Sex&Drugs&Rock&Roll, Denis Leary stars as Johnny Rock, the aging lead singer of the Heathens, a fictional early-'90s rock band that never quite lived up to its potential. Leary—who, in addition to creating, writing, and producing, is also writing and performing original music for the series—tells us about the show's origins, his own flirtations with rock 'n' roll, and that time he shared a cigarette with David Bowie.
How did the idea for the show come about?
When I was in college and right after, I knew a lot of guys who became musicians—in the Jim Carroll Band, Ozzy Osbourne's band, Raging Slab, the Del Fuegos. Then, in the early 1990s, I was friends with Greg Dulli and [the other members of] the Afghan Whigs, and through them, I met people like Dave Grohl and Nirvana. So over the last thirtysomething years, I have gotten to go behind the scenes with very successful bands and bands that were on the verge of becoming huge, as well as those that broke up. I saw guys who should have become famous but didn't because of some combination of alcohol, drugs, or just not being able to deal with success. Toward the end of filming Rescue Me, I started to think that if I was going to do another series, then that world would really be an interesting place, because every band is like a big, dysfunctional family.
Why did you choose to have Johnny indulge in so many rock 'n' roll clichés?
Johnny kind of is a cliché, which I think is part of his charm and what makes him so funny. He's basically wearing the same outfit and the same hair from 30 years ago. It was really interesting to play a guy who should have made it, though if he had, he would be dead. There must be some other reason he's on this Earth, which is really what the story of the show is.
There's a quote about how all comedians want to be rock stars and vice versa. Is this your chance to live out that dream?
My dad was a mechanic by trade, but he was really a musician. He could play any instrument, which I inherited, so I have always had my toe in that water. I met David Bowie once, years ago, on a television show. He asked me for a cigarette and we went outside to this fire escape. For the five minutes we were smoking, all he asked me about was stand-up comedy. "Do you know Steven Wright?" "What's Bobcat Goldthwait like?" So maybe rock stars really do want to be comedians.
Sex&Drugs&Rock&Roll, Premieres Thursday, July 16, 9/8c, FX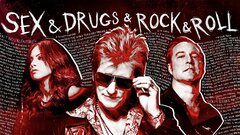 Powered by