Forget Sharks. Watch Steve Guttenberg Battle Fire-Breathing Spiders in 'Lavalantula'
Syfy's latest creature feature, Lavalantula, stars Steve Guttenberg as faded movie star Colton West, who is so down on his luck that he agrees to take one day's work in a lousy direct-to-video flick about vampire cockroaches. Could things get any worse for the guy? They sure could. Guttenberg breaks it down.
So sell us on Lavalantula. Why should we watch this crazy thing?
Because it's a fantastic, fun romp about a volcano eruption in Los Angeles that releases a bunch of really big, fire-spewing spiders, and then an actor saves the entire city. Based on a true story.
You were OK getting a call to play a Hollywood has-been?
Hey, we all have our slumps. Even Derek Jeter and Eli Manning. I've certainly had mine, but my 40th year in show business is coming up, and I'm very proud of that. I feel so honored to still be working, that the phone still rings, that I'm still relevant. You can't expect to be a homerun hitter every year. You gotta consider yourself lucky if you're still on the team.
And you don't mind acting opposite giant bugs that aren't really there?
I've worked with special effects my entire career, so it's second nature. Some actors hate it, just as some hate working with animals, but I find that it unleashes my imagination. Besides, costarring with a green screen is so common now that it's no big deal. It's soup of the day.
Lavalantula is also a Police Academy reunion. How'd that come together?
The producers were very kind to me. They said, "Who'd you like to work with?" and I jumped on it. I love working with my friends, especially my old Police Academy gang, so now I'm back with Michael Winslow, Leslie Easterbrook and Marion Ramsey. It's such a kick to be mixing it up again. But this is no favor. These are terrific actors. They earned these roles.
Lavalantula, premieres Saturday, July 24, 9/8c, Syfy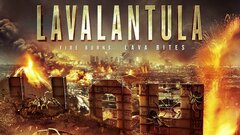 Powered by