HBO Announces Premiere Date for 'Curb Your Enthusiasm' Season 9
It's been hard for fans of Larry David to curb their enthusiasm ever since it was announced last year that David's cult favorite HBO series Curb Your Enthusiasm would return for a ninth season. And it likely won't be any easier for them to wait patiently now that the premium network has announced the date for the series' return—Sunday, Oct. 1, at 10pm ET.
The 10-episode Curb Your Enthusiasm Season 9 will again feature David as an over-the-top version of himself as he gets into socially awkward situations. The sitcom last aired a new episode in 2011. Last year, David kept fans laughing with his portrayal of candidate Bernie Sanders on Saturday Night Live, including a "Bern Your Enthusiasm" mashup parody.
With Monday's announcement, HBO also put out this appropriately over-the-top Caesarian tease ("He left. He did nothing. He returned.") featuring David:
Along with starring, Larry David will serve as an executive producer with Jeff Garlin and Jeff Schaffer. Garlin will also return as a costar with Susie Essman, JB Smoove and others.
Curb Your Enthusiasm Season 9 premieres Sunday, Oct. 1, at 10/9c on HBO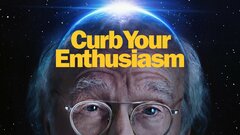 Powered by