Game of Thrones: Behind the Scenes of Season 5
We go behind the scenes of Game of Thrones to uncover secrets from the filming of the massive HBO hit's fifth season:
Above: Maisie Williams (Arya Stark) enjoys a balmy breeze on the Croatian set of Game of Thrones. The coastal town stands in for Braavos, where her character has traveled to start a new life. "For years, Maisie's been working in a cold and rainy rock quarry in Northern Ireland," says executive producer David Benioff. "Now she gets to shoot in a warm location without muck and mud. We told her: 'This is your year.'" Indeed, watch for Arya's training to really kick into high gear in the May 31 episode.
Lena Headey (Cersei Lannister) and director Mark Mylod review a scene in Croatia. "I question everything," Headey says. "I have to find purpose. Then I go home and think, 'Was it the best I could do?' It'd be more peaceful to be a chef, though I can't cook for more than three people!"
"I wanted the snake to look like it was about to strike," says costume designer Michele Clapton of the 14-inch viper bracelet worn by vengeful Ellaria Sand (Indira Varma). More snake trivia: The head was carved out of a solid lump of brass.
Historical images of Shanghai markets inspired the design of the Bridge to Volantis, where Lord Varys (Conleth Hill, far left) and Tyrion Lannister (Peter Dinklage, near left, with director Mylod) find themselves after crossing the Narrow Sea. "There are cages with exotic birds, and vases, and real spices chosen to give the set a dash of color," says production designer Deborah Riley. Note the amputated hand of a criminal dangling from the awning [above]. "We had a number of these," Riley says. The sign underneath indicates what the offender did to lose the appendage.
Gwendoline Christie (Brienne of Tarth) pauses for touch-ups during an intense horse chase. "Gwen's very tall, and I'm very short!" says makeup designer Jane Walker with a laugh. "Even when not on horseback, she'll very kindly bend down for me to do makeup checks." Brienne may also need some help later in the season as she continues to watch over the eldest Stark daughter, Sansa.
Sophie Turner (Sansa Stark) cuts a dark silhouette against the lush green hills of Northern Ireland. Her character's new black tresses and dresses (the striking change launched a "Darth Sansa" meme) required some major adjustments to her look. "The hair drained a lot of color away from her face," says Walker. "So we warmed up her skin tone and added a little more blush, then mascara for balance." Behind Turner, a tractor pulls a heavy carriage up a hill—a job that was too strenuous for the show's horses.
Game of Thrones, Sundays, 9/8c, HBO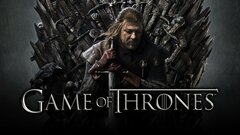 Powered by