NBC Unveils Fall 2015 Schedule: Heroes Reborn to Thursday; Blindspot Gets Plum Post-The Voice Timeslot
NBC, reborn?
That's the plan inside the Peacock network, which will jumpstart its Thursday night lineup by launching the Heroes reboot Heroes Reborn on 8/7c this fall.
"We're attacking the new season with the same programming strategy that successfully turned NBC around–a slate of provocative and innovative series and events that cut through the clutter and will continue to build on their momentum," says NBC Entertainment chairman Bob Greenblatt.
RELATED: Upfronts Preview: Network Executives on Next Year's Goals and Challenges
It's been a bit of a tough year for NBC, which is returning just one freshman drama, The Mysteries of Laura, from this past season, and has just one returning comedy, Undateable, in its arsenal. Signature hit The Blacklist also got dinged in a move to Thursdays. On the positive side, thanks in part to the Super Bowl, NBC is still on track to win the season in adults 18-49 for a second year in a row. Dick Wolf's Chicago shows have also helped give NBC a strong new procedural franchise to rely on, and The Voice is still TV's No. 1 unscripted show in adults 18-49.
Now, NBC believes it has some potentially powerful reinforcements coming its way. In launching Heroes Reborn on Thursdays, NBC hopes to give a bit of a boost to The Blacklist, which has struggled in live+same day viewing at 9/8c. (The James Spader drama improves dramatically with DVR and VOD usage). Leading out at 10/9c will be another new drama, also from the executive producers of The Blacklist: The Las Vegas thriller The Player, starring Wesley Snipes and Philip Winchester.
Meanwhile, executive producer Greg Berlanti is having a good week, and NBC just made it better, by giving his new FBI mystery Blindspot the plum spot behind The Voice, on Mondays at 10/9c. The show centers on a nameless woman who shows up in Times Square naked, and covered in tattoos. That's the start of a global conspiracy.
RELATED: Watch Sneak Previews of NBC's New Fall Series (VIDEOS)
NBC is also making over its Tuesday night lineup, kicking off the season with the new live variety show Best Time Ever with Neil Patrick Harris at 10/9c. Harris' show, based on the U.K. phenomenon Ant & Dec's Saturday Night Takeaway, will air until November, when Chicago Fire returns to the timeslot. Also on Tuesdays, the new medical drama Heartbreakers gets the other post-The Voice timeslot, at 9/8c.
Comedy is still an issue for NBC, the one-time home of "Must-See TV" that now finds itself in the disturbing position of bringing back just one half-hour sitcom, Undateable, from this past season.
Undateable, as previously reported, will go live for its full run next year (inspired by last week's live special), but will move to Fridays at 8/7c. (In terms of stability, that's actually the only NBC show making a move in the fall.) Undateable will be paired with NBC's lone new sitcom to premiere in the fall, People Are Talking (8:30/7:30c). Mark-Paul Gosselaar stars in the show, about two couples who are neighbors and best friends. The rest of Friday remains the same: Grimm at 9/8c and Dateline at 10/9c.
Wednesday is also stable, with The Mysteries of Laura, Law & Order: SVU and Chicago P.D.
On Saturdays, rather than air drama repeats, Dateline Saturday Night Mystery will air at 8/7c, followed by classic Saturday Night Live episodes at 10/9c.
And of course, NBC's (and broadcast TV's) No. 1 program, Sunday Night Football, is back as well.
That leaves plenty of new shows on the bench for later premieres. "The fall lineup gives you only half the story," says NBC Entertainment president Jennifer Salke. "We truly program on a 52-week basis and are putting virtually the same amount of programming muscle behind our mid-season lineup, with some of the most high-profile concepts and biggest names on television joining the schedule starting at midseason and extending throughout the remainder of the broadcast year."
Dramas on tap include Chicago Med (the third Chicago show from producer Dick Wolf); the Jennifer Lopez starrer Shades of Blue, in which she plays a New York cop; and the mystery Game of Silence.
Comedies waiting their turn include Superstore, starring America Ferrera as a big-box megastore supervisor; You, Me and the End of the World, starring Rob Lowe, Megan Mullally and Jenna Fischer as characters escaping the apocalypse; Eva Longoria in the telenovela parody Hot & Bothered; and Craig T. Nelson back as Coach.
Besides the Neil Patrick Harris variety show, NBC has Little Big Shots, hosted by Steve Harvey and featuring talented kids. Besides The Voice, alternative fare returning includes America Ninja Warrior, America's Got Talent, The Biggest Loser, The Celebrity Apprentice, Food Fighters, Hollywood Game Night, Last Comic Standing and Running Wild with Bear Grylls.
Also previously announced, NBC has The Wiz Live! coming this fall, plus a series of Dolly Parton movies, the first of which will be based on her upbringing, Coat of Many Colors. NBC also picked up the miniseries The Reaper, based on the memoir by Afghanistan sniper Sgt. Nicholas Irving.
The fate of A.D. The Bible Continues and American Odyssey has yet to be determined.
Here's the fall schedule:
MONDAYS: 8/7c The Voice; 10/9c Blindspot (NEW DRAMA)
TUESDAYS: 8/7c The Voice; 9/8c Heartbreaker (NEW DRAMA); 10/9c Best Time Ever with Neil Patrick Harris (NEW VARIETY SHOW, until November); 10/9c Chicago Fire (Staring November)
WEDNESDAYS: 8/7c Mysteries of Laura; 9/8c Law & Order: SVU; 10/9c Chicago P.D.
THURSDAYS: 8/7c Heroes Reborn (NEW DRAMA); 9/8c The Blacklist; 10/9c The Player (NEW DRAMA)
FRIDAYS: 8/7c Undateable; 8:30 People Are Talking (NEW COMEDY); 9/8c Grimm; 10/9c Dateline
SATURDAYS: 8/7c Dateline Saturday Night Mystery; 10/9c Saturday Night Live Encores
SUNDAYS: 7/6c Football Night In America; 8:20/7:20 Sunday Night Football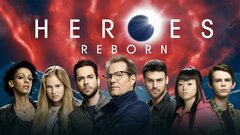 Powered by