'Sherlock' at Comic-Con: Going Back in Time Makes for a Perfect Trip
Sherlock is coming to the big screen.
The British series' Victorian special, teased at Thursday's Comic-Con panel, will get a special run in theatres so fans can see Holmes (Benedict Cumberbatch) and Watson (Martin Freeman) at their biggest. In the clip, Sherlock and Watson look like they're returning to Baker Street after a trip and trade banter with landlady Mrs. Hudson. Sherlock executive producer Steven Moffat said ghosts were part of the plot but he wouldn't say much more.
"It has the same humor as the show but it's in the correct era," Moffat said. He added that "we had to be truthful to the era, which was incredibly sexist" and pointed to fact in original Sherlock stories, the women spoke very little. Moffat added, "That's why they had to invent Molly Hooper."
At the panel, Moffat and executive producer Sue Vertue, along with cast member Rupert Graves (DI Lestrade), were otherwise careful (as usual) not to reveal much about upcoming events in Season 4, though Moffat joked that he and Mark Gatiss were hard at work on "cliffhangers and emotional devastation" among other things. But fans got a surprise in the form of a filmed message from Andrew Scott, who plays Moriarty. It included moments with Cumberbatch who explained that he wasn't at SDCC because he's starring as Hamlet right now—to which Scott replied, "Oh, that's a good play." After complaining to Cumberbatch that Moriarty died in the show, at the very end of the message, Scott looked directly into the camera and asked fans, "Miss me?" which was met with big applause from the audience.
The panelists were mostly tight-lipped. Moffat wouldn't say whether Irene Adler would return but said he wrote out what happened between her and Sherlock for his own amusement; the scenario had Irene stealing Sherlock's threads. He added, "Maybe it's best if we never know what happened between them." A sharp-eyed fan referred to a brief mention of "the other one" in a past episode and asked if we'd soon see a third Holmes brother; Moffat would not answer. They did open up when asked about their favorite moments from past episodes, Graves picked Season 3's pivotal scene of Mary with a gun. Vertue called out Sherlock shooting Magnusson "because the music was fantastic and you saw Mycroft's love for his brother." For Moffat, the high mark was Season 2's "I am Sherlocked" moment.
Other highlights included:
Moffat revealed that he reads the stage directions at Sherlock table reads.
Moffat said he's glad Sherlock is inspiring budding artists and writers — just as Dr. Who did for him when he was young. He also noted that he doesn't watch his old shows as "it's always faintly depressing to see that I still make some of the same mistakes. I do think I've gotten better with emotions." He says his colleagues question his sense of humor: when he writes a joke that he thinks is funny, they often tell him it's in bad taste.
No, it is not true that they almost didn't hire Cumberbatch for the role of Sherlock because he wasn't attractive enough. "We were always going to cast him and he became SO good looking when he was playing Sherlock," Vertue said. Moffat added, "He gets more and more handsome, but not as handsome as Rupert."
Will Sherlock episodes ever air in the States at the same time as in the U.K.? Sue Vertue said there are constant talks about getting the UK and US airdates to be closer together so American fans don't have to wait so long.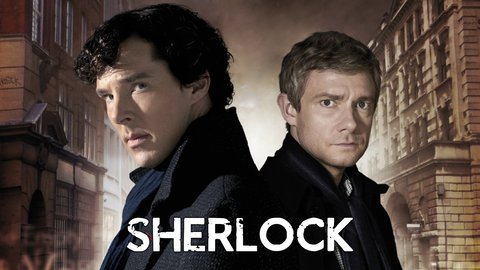 Powered by