Survivor Unveils New "Second Chance" Twist
If at first they didn't succeed, a handful of former Survivor castaways now have the opportunity to try again.
For the first time in the CBS reality franchise's 30-season history, the fans will choose which 20 contestants will compete in this fall's Second Chance installment. Viewers will vote for their favorites from a pool of 32 past players who have never won the game, including Season 1 runner up Kelly Wigelsworth, to give the hopefuls another shot at taking home the $1 million grand prize and title of Sole Survivor.
"The idea of a 'second chance' season started brewing during our first season, the moment Kelly Wigelsworth lost to Richard Hatch, in the summer of 2000," host and executive producer Jeff Probst said in a statement. "Since their respective seasons ended, these players have been begging for another shot, and this is a fun way to allow our loyal fans to be involved in the creative process."
Other nominees include fan favorites Stephen Fishbach from Tocantins and Vytas Baskauskas, who last competed with his brother, Aras, on Blood vs. Water. While Mike Holloway and Carolyn Rivera from the current Worlds Apart season are also in the running, CBS insists that if one of them were to win this year, he or she would be ineligible to play during Second Chance.
Visit cbs.com/survivorsecondchance to vote between now and May 20. The final cast will be revealed during the Worlds Apart live reunion show, airing Wednesday, May 20 at 10/9c.
Here's a full rundown of the eligible contestants:
WOMEN
Kelly Wiglesworth
Season 1
Survivor: Borneo
Kimmi Kappenberg
Season 2
Survivor: The Australian Outback
Teresa "T-Bird" Cooper
Season 3
Survivor: Africa
Peih-Gee Law
Season 15
Survivor: China
Monica Padilla
Season 19
Survivor: Samoa
Natalie Tenerelli
Season 22
Survivor: Redemption Island
Stephanie Valencia
Season 22
Survivor: Redemption Island
Mikayla Wingle
Season 23
Survivor: South Pacific
Sabrina Thompson
Season 24
Survivor: One World
Abi-Maria Gomes
Season 25
Survivor: Philippines
Ciera Eastin
Season 27
Survivor: Blood vs. Water
Tasha Fox
Season 28
Survivor: Cagayan
Kass McQuillen
Season 28
Survivor: Cagayan
Kelley Wentworth
Season 29
Survivor: San Juan del Sur
Shirin Oskooi
Season 30
Survivor: Worlds Apart
Carolyn Rivera
Season 30
Survivor: Worlds Apart
MEN
Jeff Varner
Season 2
Survivor: The Australian Outback
Andrew Savage
Season 7
Survivor: Pearl Islands
Shane Powers
Season 12
Survivor: Panama
Terry Deitz
Season 12
Survivor: Panama
Stephen Fishbach
Season 18
Survivor: Tocantins
Jim Rice
Season 23
Survivor: South Pacific
Troyzan Robertson
Season 24
Survivor: One World
Vytas Baskauskas
Season 27
Survivor: Blood vs. Water
Brad Culpepper
Season 27
Survivor: Blood vs. Water
Woo Hwang
Season 28
Survivor: Cagayan
Spencer Bledsoe
Season 28
Survivor: Cagayan
Jeremy Collins
Season 29
Survivor: San Juan del Sur
Keith Nale
Season 29
Survivor: San Juan del Sur
Joe Anglim
Season 30
Survivor: Worlds Apart
Max Dawson
Season 30
Survivor: Worlds Apart
Mike Holloway
Season 30
Survivor: Worlds Apart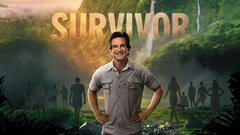 Powered by