Ask Matt: 'True Detective' Angst, 'Catastrophe', Emmy Repeaters, Binge Suggestions and More
Welcome to the weekly Q&A with TV critic (also known to some TV fans as their "TV therapist") Matt Roush, who'll address whatever you love, loathe, are confused or frustrated or thrilled by in today's vast TV landscape. One caution: This is a spoiler-free zone. Don't ask me what's going to happen on a show. I prefer to find out along with everyone else. Please send your questions and comments to [email protected]and follow me on Twitter.
Question: [Quasi Spoiler Alert, not that you couldn't have seen this one coming] I was trying to keep an open mind about the second season of HBO's True Detective, which I enjoyed last year for its performances and mesmerizing tone even when the story (such as it was) went off the rails. I've always liked Colin Farrell and Rachel McAdams, but the show isn't giving Taylor Kitsch much to do but brood—and it already seems pretty obvious what his big "secret" is. But just when I was about to declare Vince Vaughn's "papier mache" bedtime soliloquy the last straw last week, we then got that ridiculous cliffhanger making it seem like Farrell's character was killed. Which of course he wasn't, which led to a pretentious out-of-body dream sequence that felt like warmed-over Twin Peaks. Is there any reason to keep going? — Barb
Matt Roush: I've only seen as much as you, Barb, since HBO only made the first three episodes available for preview as of this writing. I figure since I'm already almost halfway through this "limited" series—a qualifier that also refers to its entertainment value, sad to say—I'll probably stick with it to the end, just in case. But this season definitely feels like homework, so I can't say I'd recommend it to anyone who doesn't do this sort of thing for a living. A real disappointment, although before last season was over, I had begun to feel there was an Emperor's New Clothes quality to the fanfare around the show. But even the chase sequence in this week's episode paled, compared (as it was destined to be) to last season's bravura sequence from the "Who Goes There" episode, which justifiably won Cary Fukunaga a directing Emmy. And introducing a douchebag director character who seems to be a stand-in for Fukunaga (no longer directing the show) just seemed like poor judgment. Had to laugh when Frank told Ray, "There's a certain stridency at work here." Couldn't agree more.
---
Question: With all the Emmy Awards speculation heating up again in advance of next week's nominations: I must say that I get tired and irritated every time I hear someone complain about the same shows winning year after year. If Academy voters actually think a show or actor deserves the highest honors for its productions during the year, of course they should honor them, even if they've been honored before. Does the winner of the Super Bowl get disqualified from competing in subsequent years until all the other teams have won? What would be the point of giving an Emmy to a show when the voters actually think another show is more deserving, but are forced to give it to a new show because the old one has already won an award? — PT
Matt Roush: There is truth in this, but it's also fair play to criticize Academy members, especially in the nomination process, for being awfully lazy in falling back on tried-and-true nominees and past winners at the expense of shows (say, FX's The Americans) that never make the cut because even weaker seasons of longtime favorites like Downton Abbey and Mad Men are often given a pass. If I truly felt that the voters were paying attention to a show's current season than to its overall reputation, then I'd be more inclined to agree with you. But there's not much evidence that's the case, even with the voting supposedly based on specific episode submissions.
The loudest outcry, at least in the media, has focused on Modern Family's winning streak, which could extend to a record sixth in a row unless a spoiler comes along (my pick would be HBO's fabulous Silicon Valley, although just to tweak the snobs who can't see the value in classic multi-cam sitcoms, I'd get a kick out of an improbable win for The Big Bang Theory). It's possible Modern Family could win on the basis of the brilliant "Connection Lost" episode from February (which all played out on Claire's computer screen), but should that come to pass, prepare for backlash, because there really are fresher, bolder and even consistently funnier comedies out there these days.
---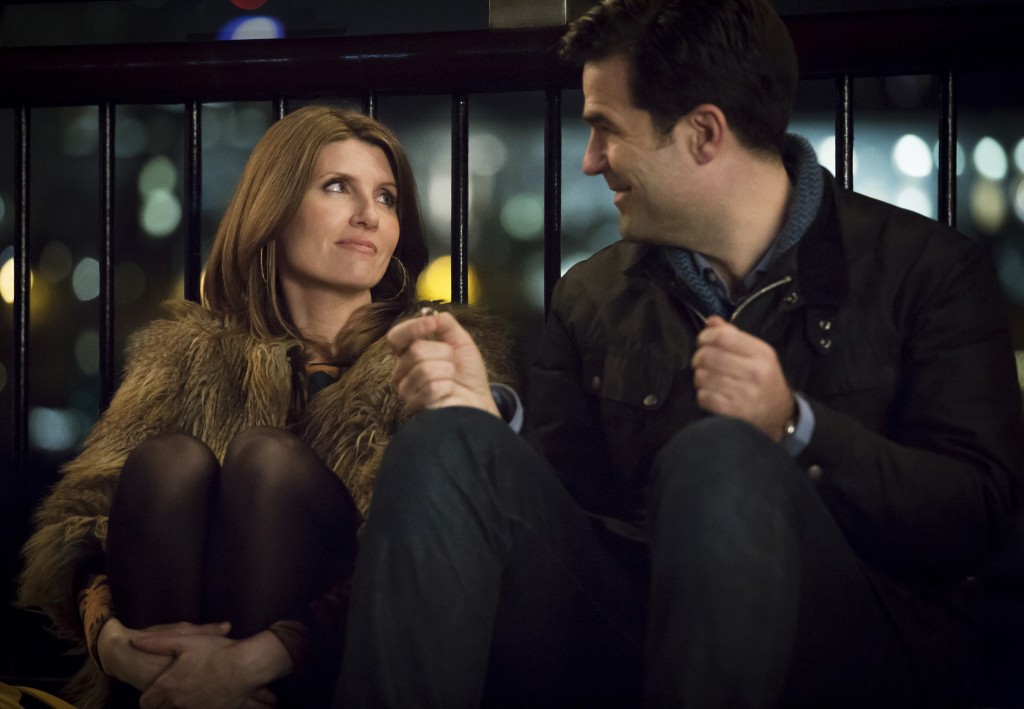 Question: I just watched all six episodes of Amazon's Catastrophe in one sitting and really enjoyed it. However, it left off with a cliffhanger. Do you know if, or when, there will be a second season? — Stephanie
Matt Roush: If? Yes. This raunchily enjoyable send-up of rom-com conventions was renewed by Britain's Channel 4. The when, however, is less clear. It has been reported that the second season will air in the U.K. in October, but can't say whether there will be a similar time lapse before Amazon presents it. (The first season aired in England in January-February, but didn't come to Amazon until June.)
---
Question: Do pay cablers like HBO and Showtime factor in February, May and November sweeps at all in their programming and scheduling choices? I seem to recall Olive Kitteridge premiering in November, and The Normal Heart in May, among others, and I thought at the time, "Oh, those are sweeps-influenced decisions." Or are those networks immune to ratings considerations? – Bob
Matt Roush: It's not so much a ratings issue—and certainly not an acknowledgement of sweeps, which is such an outmoded construct that you hardly notice the broadcast networks playing the game anymore (except for the preponderance of original episodes during those months, and a pile-up of awards shows in February). There may be timing considerations at play in the scheduling, though, because HBO in particular is very conscious of how the awards circuit works. Premiering something at the end of the calendar year can give a show or special a leg up in end-of-year critics' lists and Golden Globe consideration. Launching something at the very end of the eligibility period in May keeps it very fresh in voters' minds when the Emmy ballots go out. So there's certainly strategy at work here, just not so much to do with ratings or sweeps.
---
Question: I know this isn't the type of question you usually get, but I've wondered this for years and don't know who else to ask. What does Vanna White do all day? How does she justify her gazillion-dollar salary? I'm hoping you'll say she supports children in third-world countries or tends to all of the sick animals she's taken in to nurture back to health. Please answer, Obi—you're my only hope. — Linda
Matt Roush:Wheel of Fortune is still a significant enough cash cow in the syndication world that the show's letter-turner doesn't need to justify her salary. The market determines such things, and should Wheel's popularity ever slip (unlikely), that would likely change, too. But doing a very cursory cross-search of Vanna White and philanthropy, I discovered that when she's not sashaying across the set, she's often crocheting—and she has her own line of yarn, "Vanna's Choice," from which she donates a portion of proceeds (in the millions) to St. Jude's Children's Research Hospital. Hope that puts you at ease at least a little.

---
Question: What did you think of the ending of Secrets and Lies? Will the show return with a new story, new cast? I was disappointed in the ending. The father is going to jail to protect his crazy deranged daughter? Come on! — Marv
Matt Roush: Can't say I bought that resolution either, and I'm also not sold on the show coming back, even with the appealing Michael Ealy cast as the new male lead with an entirely new story unfolding—my skepticism having to do with Juliette Lewis's cartoonishly dour performance as Detective Cornell, the one (and worst) element of Lies that remains unchanged.
---
Question: I'm looking for something to binge watch this summer. We subscribe to Netflix, Hulu and Amazon Prime, so we have plenty of (Read: Too many) choices. Would you help me cull the list? I'd like to find a show or shows that are/were consistently strong throughout their runs, but aren't extremely violent. So, for example, no Breaking Bad, even though I've heard it's excellent. I loved The West Wing, but those later seasons dropped off in quality. The show that comes to my mind as being consistently enjoyable is Fringe, which I binge-watched prior to its final season. What would you add to the list? — Kirsten
Matt Roush:TV Guide Magazine recently published an entire issue devoted to binge-watching, which included Fringe in its "Hall of Fame" entries, so I'll use that as my reference, trying to keep your predilections in mind. (Fringe was pretty freaky at times, so hard to tell where your violence threshold lies.) I'd start with Friday Night Lights and the recently concluded Justified, and also recommend the contemporary Western mystery series Longmire (which will return for a fourth season on Netflix after being canceled by A&E) and the 1980s-set spy thriller The Americans. To satisfy your need for fantasy, with a dash of time-tripping romance, you can't beat Starz's Outlander (on Amazon and iTunes). Of shows not mentioned in that package, I'd suggest Parenthood (if you dug Friday Night Lights, another reliable tear-jerker) and the classic The X-Files (a precursor to Fringe, returning to Fox this winter). And even if you're not a reality fan, I just binged on the most recent season of the creature make-up competition series Face Off (in anticipation of a new season starting in late July on Syfy) and had a blast. Such creativity, and even camaraderie, on display with these talented contestants.
That's all for now, but remember that there will be another Ask Matt column on Thursday! Can't do it without you, so please keep sending questions and comments to [email protected]or shoot me a line on Twitter.