Alison Sweeney Bites Into a Tasty New Role on Hallmark's Murder, She Baked
After nearly 22 years as troublemaker Sami Brady on Days of Our Lives, Alison Sweeney is finally getting her just desserts: She's starring in a series of Hallmark films based on the best-selling culinary whodunits of Joanne Fluke. First up is Murder, She Baked: A Chocolate Chip Cookie Mystery. It's to die for!
What's with you and quaint little towns where there's a murder every other Tuesday?
I know, right? Nothing will ever compare to [Days of Our Lives'] Salem when it comes to crazy crime, but sweet little Lake Eden, Minnesota—the setting for Murder, She Baked—is quite the Kill Capital. My character, Hannah, is an amateur sleuth who runs the Cookie Jar bakery. Her mother is always telling her: "You have to stop finding dead bodies. No man will want you!"
But isn't Cameron Mathison [All My Children] your love interest?
Yeah, but he first comes on as this handsome detective from the big city who thinks everyone is a killer in the making, and she's very wary of him because she's protective of her small town. It turns out he's a lonely widower and looking for a new place to live. [Laughs] So you can figure out the rest! Meanwhile, Barbara Niven [One Life to Live], a great comedic actress, plays the mom and she is throwing Hannah at any available man, including the dentist who lives next door. It's really cute.
Are you feeling like the new Angela Lansbury?
Hannah is a bit of a busybody. In the first movie, her delivery man is found dead with one of her chocolate chip crunch cookies in his hand and she's determined to get to the bottom of it. She has a sixth sense about what kind of cookies people like, so she'll make a batch and use them to get in the door so she can ask questions and solve her crimes. It's so weird that my life has come full circle. When I was little, my mom was obsessed with all the great old crime shows—Murder, She Wrote, Columbo, and especially Perry Mason—and we loved watching them together. So I am ready for this! Next we're doing The Plum Pudding Mystery. There's nothing gross and graphic about these movies. In fact, there's lots of comedy and lighthearted romance. It's the first thing I've done as an actor that I want my kids to watch.
You push some pretty high-calorie confections in this movie—the kind you'd ban on your show The Biggest Loser. Mixed message?
It's terrible! I avoid temptation on the set by telling myself they're not real—just props—and that helps me stay in denial. But I did ask the writers to throw in a fitness message, so Hannah goes on runs to clear her head and solve her crimes. It's all about balance.
You had to quit Days of Our Lives to finally get your first Daytime Emmy nomination this year. Had you given up hope?
I thought I'd never be invited to the party. In fact, a lot of years I didn't even bother submitting myself. So this is an amazing gift. I'm not nervous about being nominated. I'll be in Canada shooting the Hallmark movie Radio Hype until right before the awards. When I get back, I will have exactly one day to find a dress. [Laughs] That's what makes me nervous.
Murder, She Baked: A Chocolate Chip Cookie Mystery airs Saturday, May 2, 9/8c, Hallmark Movies & Mysteries.
---
Here is author Joanne Fluke's own recipe for a classic cookie treat—with a flaky twist.
Chocolate Chip Crunch Cookies
Makes 36 cookies
Ingredients
1 cup butter
1 cup white sugar
1 cup brown sugar
2 teaspoons baking soda
1 teaspoon salt
2 teaspoons vanilla
2 eggs, beaten
2 ½ cups unsifted flour
2 cups crushed cornflakes
1 cup chocolate chips (double if desired)
Instructions
Preheat oven to 375° F (rack in middle position). Grease cookie sheet. Melt butter. Add sugars and stir. Add soda, salt, vanilla, and eggs. Mix well. Add flour and stir. Add cornflakes and chocolate chips. Mix thoroughly. Form dough into 36 walnut-size balls. Place 12 at a time on cookie sheet. Press balls down with floured fork in crisscross pattern. Bake for 10 minutes. Cool 2 minutes on sheet, and then remove to continue cooling on wire rack to assure crispness.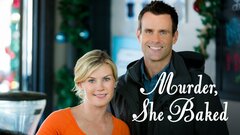 Powered by