Reality Bites: Donna Mills Gets "A Little Pushy" (But Not Bitchy!) in Queens of Drama
Come for the awards, stay for the catfights. Right after Pop's airing of the Daytime Emmys on April 26, the cable channel will premiere the first two episodes of its new reality series Queens of Drama, starring a sextet of current and former suds sirens—Donna Mills (Knots Landing), Vanessa Marcil (General Hospital), Lindsay Hartley (All My Children), Chrystee Pharris (Passions), Crystal Hunt (One Life to Live), and Hunter Tylo (The Bold and the Beautiful). Their goal is to write themselves a drama series and pitch it to the networks. But first they have to lay down their pitchforks. Mills gave us a preview.
Things quickly get cutthroat in this series. Is the conflict among the actresses real? Semireal? Fiction with a whiff of reality?
It's a hybrid, and I was very careful with the producers, because there were times when they pushed me to be a major bitch. I said, "No, I won't do that." I can be headstrong, take-charge, a little pushy, but I don't think I'm bitchy and I didn't want that to come across.
Any qualms about jumping into this?
Oh, yes! When they first called me, they said, "We have this reality show…," and immediately I was resistant. "I am not doing a reality show!" But then they said, "Listen to what it's about—women who get together and want to create their own nighttime drama." And I thought that was kind of nice. It's about something. It has a purpose, a goal. So I took a leap of faith. I wasn't sure I was going to like it but, as it turned out, I had a really great time.
Is it really any different from acting?
On one of the early days of the show, all six of us were together for a scene and the cameras were rolling but nothing was happening. We were all just sort of staring at each other! Finally, I turned to one of the producers and said, "Somebody has to call 'Action!' because, if you don't, nobody will do anything. We're actresses!" I can't speak for the others, but what you see of me in Queens of Drama is pretty much me. I don't do anything in this series I probably wouldn't do in real life. I'm not saying I thought up everything. They definitely came up with ideas and ran them by me. I don't think the audience believes those housewives shows are really, really real.
We also know that certain reality stars like to stir up trouble in order to get famous. Does that apply to any of these divas? [Laughs] I don't think any of us is planning on this show for our fame…or to get rich. It's entertainment. At least, I hope it's entertaining.
At one point, Joan Collins drops in and it's like Alexis Carrington and Abby Ewing are sitting down to lunch. Was it your intention to give us an '80s fangasm?
They weren't even sure they could get Joan, but it ended up being a blast. That era still means so much to people. People couldn't wait for Thursday night and the next episode of Knots Landing. Your friends came over. It was an event! Now you can hole up in your closet by yourself over a weekend and watch three seasons of House of Cards. It's not as exciting. But, boy, that era was fun. In fact, I'm writing a book! The proposal just went out to the New York publishers. I'm doing it with James Spada [author of bestselling biographies of Barbra Streisand, Grace Kelly and Bette Davis]. I was approached to do a book back in the Knots years but I said, "I have nothing to tell, or say. No one wants to hear what I think about anything." But six or seven months ago I was approached again, and now I feel ready.
Hey, the Play Misty For Me fans alone will make this a bestseller!
[Laughs] They are obsessed with that movie!
April 26 isn't just a big night for you because of the debut of Queens of Drama—you're also nominated for a Daytime Emmy in the new guest-performer category as that badass General Hospital matron Madeline Reeves. Isn't this a career first?
I have never been nominated for anything ever, and I'm shocked it happened this time because I did not submit myself. The people at GH called and said, "Which episode did you like best? We want to submit you for the Emmys." And I said, "Oh, no, no, no. Please don't do it." But they did. I'm thrilled, though. My first few days on the soap, I was like a deer in the headlights because it was all so fast and frantic. I didn't know if I'd survive. [Laughs] But I guess I got the hang of it.
Will you return to GH?
I'm going back at the end of this month. I'm just very trusting of [head writer] Ron Carlivati. It's a whole crazy new way of working but, at this point in my life, I'm doing a lot of that. It's all about firsts for me these days—so much that my head is spinning! Right now I'm back and forth to Boston shooting the David O. Russell movie Joy [with Jennifer Lawrence, Bradley Cooper, and Robert De Niro]. David is a genius and I'm working with him in a way that I have never worked with any other director. I'm sworn to secrecy about the details but I'm very excited. It's all so scary—the reality show, the book, the movie, the soap, and don't get me started on the whole social-media thing! [Laughs] But, listen, to be doing so many things that scare me at this point in my career is a really great thing!
Queens of Drama premieres Sunday, April 26, 10/9c on Pop.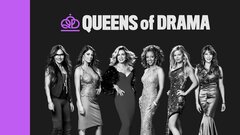 Powered by