Is 'Big Brother' Turning Over a New Leaf?
For a show that's spent the past few seasons plagued by overt racism, homophobia, and sexism, it was impossible not to go into Season 17 premiere of Big Brother with a little trepidation. Okay, a lot of trepidation when you consider that this season features the show's first transgender houseguest, 25-year-old Audrey Middleton. Big Brother is joining the ever-changing national dialogue on trans-related topics that's getting a bolder voice these days thanks to high-profile transgender advocates such as Caitlyn Jenner and Laverne Cox, and a growing television presence. But if the show decided to cast Middleton's housemates the same way they did in, say, the infamous Season 15, things could get ugly fast.
That doesn't seem to be the case… so far. During the first part of the two-night season premiere on Wednesday night, Middleton, a digital media consultant, said that coming out as transgender on television would be the first time she would "publicly share my truth with complete and total strangers." She was met with cheers and support from her fellow houseguests, who told her she was "amazing" and that she "looked awesome" by some of her housemates. While one admitted that Middleton being transgender "threw me for a loop," he concluded that she was actually "pretty cool." The general consensus was either support or that they'd never met a transgender person before and were happy to finally have some perspective.
In fact, the only moment that lead to an uncomfortable reaction was when her early alliance member Da'Vonne Rogers suggested that Middleton's harrowing story about being sent to a troubled youth program and enduring drug and alcohol abuse issues was a tactic to earn points from her housemates. That's a pretty long way for Big Brother to come from its embarrassing days of Dumbledore-bashing and flat-out racist remarks.
However, at this point, we've only met half the cast; the rest will be revealed in tonight's part two. So it's unlikely that these warm and fuzzy feelings will last much longer — this is, after all, Big Brother. But unless the incoming crop of additional housemates tears at the fabric of the tolerance and acceptance that's been established so far, Big Brother may just turn over a much-needed new leaf for itself and all of television.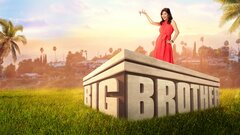 Powered by