Arrow Sweepstakes: Congratulations to Our Winners!
We're pleased to announce the winners of the TV Insider/DC Arrow Sweepstakes!
Our Grand Prize winner Jen Winkler of Pennsylvania receives a set of six collectible action figures that includes Oliver Queen (with totem), Arrow, Black Canary, Deathstroke, Dark Archer, and Deadshot. Our two runners-up, Jacob Wasdin from Alabama and Stephanie Romito from Virginia, will each receive a set of four that includes Arrow, Deathstroke, Dark Archer, and Deadshot.
Thank you to everyone who participated. If you didn't win, you can still pick up the action figures at your local comic book/specialty shop (they're available now), at shopdcentertainment.com or on Amazon.
Be sure to like us on Facebook and follow us on Twitter so you're always the first to know about our other sweepstakes opportunities.
Arrow returns Wednesday, April 15 (8/7c, The CW) with Captain Lance continuing his manhunt for Oliver, now outed as the Arrow. It's not the best time for Ollie to be keeping a low profile, as a new DCU villain comes to Starling City: Jake Simmons, aka Deathbolt. He'll be played by sci-fi fave Doug Jones (Abe Sapien from the Hellboy movies, Cochise on Falling Skies.) Jones will also bring the character to The Flash later in the season, continuing the interplay between the two shows.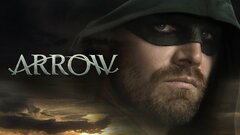 Arrow
where to stream
Powered by