Watch: There's Gold to Be Found in New Discovery Series 'Devil's Canyon' (VIDEO)
We've got a feeling that Discovery is going to start a legitimate gold rush to Devil's Canyon, British Columbia, after viewers get a glimpse of the stars of the network's latest treasure-hunting series, Devil's Canyon (Tuesdays beginning June 6). It's a reality series that fans of Discovery's hit Gold Rush may want to check out.
The guys in Devil's Canyon are extreme prospectors Boyce Goff, Ben van der Valk (featured in the video below) and John Belchik, who separately go into the remote canyon (where big mining companies can't reach) with no camera crew and no help. The area is known for harboring the largest creekside gold deposit the world has ever seen, and the men are going old-school to pan-mine for gold with hopes of making a fortune.
It's a classic man vs. nature test, as they've only got the food and supplies they carried on their back, and will need to survive the harsh terrain and imposing winter.
Check out an exclusive clip from Devil's Canyon:
Devil's Canyon, Tuesdays at 10/9c beginning June 6, Discovery Channel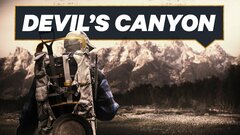 Powered by