Bilquis in Battle: 'American Gods' Wraps up a Sizzling First Season (VIDEO)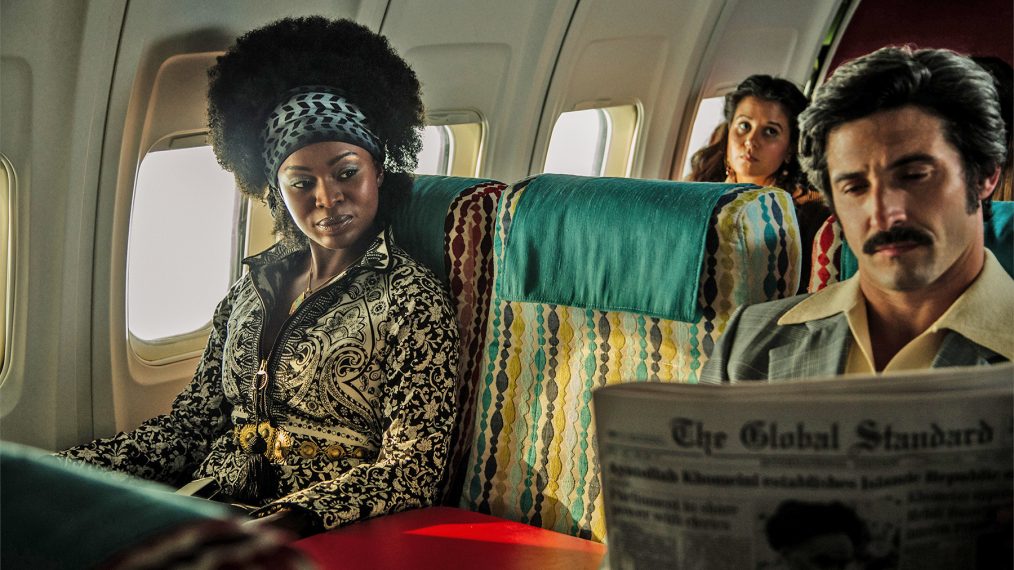 One might say that Yetide Badaki's role on American Gods, um, sucks you right in. But in the Season 1 finale of the fantastical series, Badaki's Bilquis (left in the photo above)—an ancient goddess of love who craves worship—finds herself sucked into the plans of the power-mad new gods.
"We will see in more detail how alliances form," the actress teases. The episode time-jumps, showing Bilquis devouring men and women through the ages, leading up to a shift in supremacy in the present, when a new god offers her something she needs to survive.
"You get to see her experience of womanhood through the ages and agency, and what happens to that agency, and how she then strives to survive through all of that."
See Also
Can't get enough of the new Starz show 'American Gods'? There are books, podcasts and albums to keep you immersed in this fantastical world.
The hour will end with the first strike in the long-awaited battle between gods old and new, and Badaki says everything really boils down to one thing—worship.
"Gods seem to think that attention can't be spread evenly," she says. "And when attention and worship is what you survive on, then the stakes are really high on whether you are receiving it or not. And we do see that the more worship some of them get, the more powerful they are. And so all kinds of power plays occur within that. Now, as a Goddess of Love I'd like to think that everyone could just get along!"
In fact, Badaki believes the gods—old and new—would benefit from maybe listening to one another a bit more. "All of these Gods, we can't forget, are all a construct of humanity," she explains. "They are all a deep part of the human experience. I think a lot can be learned from the past, and we do continue to evolve. Yes, these gods can learn a lot from each other if they just stop hogging all the power."
Here's an exclusive clip from Sunday's season finale:
American Gods, Season Finale, Sunday, June 18, 9/8, Starz