Billy Crudup on Netflix's New Mystery Series 'Gypsy': 'There's No Room for the Viewer to Feel Safe'
What if your shrink is even crazier than you are? The new Netflix psychological thriller Gypsy stars two-time Oscar nominee Naomi Watts and Tony winner Billy Crudup as Jean and Michael Halloway, an upscale Connecticut couple whose seemingly ideal marriage could implode at any moment. Jean, you see, has a dual identity as a woman named Diane, and she's messing around in her clients' personal lives in the most deplorable, unethical ways. She's also become sexually obsessed with a woman. Michael is clueless when it comes to his wife's shenanigans. At first, anyway. We dished it up with Crudup.
This series plays upon that deep human need to think of our doctors as God, and then you blow that fantasy sky-high. Unsettling!
There's no room in Gypsy for the viewer to feel safe and comfortable. We should all be concerned about the stability of the people we put in charge of our physical safety—and our institutional safety, for that matter. [Laughs] Yeah, it's unsettling, but it sure makes for kickass drama!
There are signs that Jean is up to something—her drinking has escalated, she's disappearing a lot—but Michael keeps cutting her slack. Is he dumb or in denial?
He's struggling to do the right thing for his wife and for their family. Jean is a complicated woman, so he chooses to give her space to work out her s–t. That might sound good in theory, but it can be a very destructive way to manage a relationship that's in flux. By doing everything right, he's doing everything wrong.
The Halloways' little daughter shows signs of being transgender, and Michael is cool with it. Will he feel the same way about his wife's bisexual life, if it's exposed?
I'm not sure where [creator] Lisa Rubin is going with this, but my hope is that this exploration of a marriage—and whether it can be saved—is not a one-season thing. I'd love to take a good long time to figure this out, and I'm really intrigued that Michael understands sexuality is not a black-and-white thing. He is nonplussed that his daughter seems to [identify as a boy]—and that's so intriguing coming from a guy who is a part of the white, privileged corporate world, a blue-blood lawyer from the Ivy League school of masculinity. He's a solid dude.
Gypsy Series Premiere, Friday, June 30, Netflix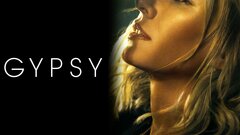 Gypsy
where to stream
Powered by