'The Originals' Face Their Biggest Threat
The Originals, "Night Has a Thousand Eyes" (Monday, April 13, 8/7c, CW)
It's a Mikaelson family reunion. In other words a probable bloodbath.
Dahlia, the malevolently powerful witch played by the incomparable Claudia Black (Farscape, Stargate SG-1), storms into New Orleans on a mission to snatch Hope, Klaus (Joseph Morgan)and Hayley's werewolf/vampire baby. To make things worse, as Klaus desperately searches for a way to defeat his auntie Dahlia, his hated stepfather Mikael (Sebastian Roche) makes his presence known. Complicating matters: Mikael the vampire-slaying vampire is loathed by most of his children, but he and his long-time-no-see eldest daughter Freya (Riley Voelkel) share a deep bond and want to protect each other. That inconvenient fact forces some very strange bedfellows.
Where does Hayley's werewolf clan fit into the Originals family squabble? If the hairy ones are smart— they'll be trying to avoid the blood splatter. With Hayley's mate Jackson (Nathan Parsons) leading the pack, somehow we doubt that.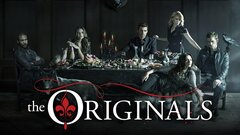 Powered by