Cougar Town Co-Creator No Longer Regrets the Title Cougar Town co-creator no longer regrets the title
Bill Lawrence used to complain about the title, arguing that it should be changed because it turned off potential viewers. Not anymore. Now that the show is over, Lawrence says, "If someone had come up to me at the beginning of all of this and said, 'hey you just sold the show and it will never be a huge gigantic hit but it will have a loyal following and it'll be on for six years and everyone will be close friends,' I'll take that every time. So no, in my mind, no regrets at all." PLUS: Josh Hopkins says: "We had the perfect amount of episodes. We ran our course pretty well."
Netflix renews Bloodline
Kyle Chandler's family thriller will be back for a 2nd season.
Nick Offerman cancels an Indiana performance over the state's controversial "Religious Freedom" law
The former Parks and Rec star is, however, going ahead with a performance Wednesday at Indiana University, with donations going to the LGBT group Human Rights Campaign.
How Trevor Noah can save his Daily Show tenure before it starts
Women have had a problematic history with The Daily Show, and Noah's misogynistic tweets won't help that history. But, as Alyssa Rosenberg urges, Noah could take action and hire more women and minorities on camera and behind the scenes. "More than taking back some lame jokes," she says, "it would be a substantive step toward making The Daily Show embody its own values." PLUS: Noah should've been dumped, the backlash was ridiculous, Noah has also made a career mocking African-Americans, and will "Daily Show" viewers pay attention when a black host talks about race?
Netflix and Amazon's model of dumping a whole season at once has its upsides
It doesn't allow producers to change storylines in reaction to viewers midseason, and it gives viewers and critics a chance to view the whole season in context.
Big Brother USA boss to run Big Brother UK
Will there be a crossover between the two versions now that Allison Grodner is in charge of the British series?
Nathan Fillion pens a love letter to The Walking Dead
The Castle star says he and his friends "spend commercial breaks hooting, gasping, and commenting, positively or negatively, it doesn't matter. What matters is that we are being made to feel. Emotions are welling up from nothing—nothing but a well-crafted story."
Kevin Spacey claims Bill Clinton told him "99 percent" of House of Cards is real
The education bill passing was the 1% the show got wrong, but here are plot twists that prove the former president is wrong.
WWE Network partners with Jerry Springer, Jackass co-creator and Seth Green on new shows
Springer will host Jerry Springer Presents WWE Too Hot for TV, Green will produce animated comedy Camp WWE and Jeff Tremaine will make Swerved for WWE Network.
U.S. Sen. Tom Cotton tweets SNL to complain about being portrayed by a short cast member
The senator representing Arkansas tweeted: "Hey @nbcsnl, clever skit, but for the record, I'm the same height as @therock." (Cotton was played by Kyle Mooney, who's 5-foot-7.)
Watch a preview of Vince Gilligan's Island with the Breaking Bad creator and Bob Odenkirk
MeTV this weekend will feature a full hour of Gilligan and Odenkirk talking and showing classic TV.
Colin Farrell hated putting on pounds for True Detective
"People think it must be fun to eat what you want – and it is, for the first day," he tells Britain's Glamour magazine. "Day two, when you're already on your second cheeseburger and fries with a chocolate shake by 11 a.m., not so much."
Finding Carter's Kathrynn Prescott has been playing a 16 year old since 2009
The 23-year-old actress, who first gained fame on "Skins," has had her perspective on playing a teen evolve as she's gotten older.
Behind the scenes of Letterman
Read one Late Show writer's remembrances of three decades working for Dave.
Rose McIver explains how she gets her iZombie complexion
"It takes just as long to make no-makeup makeup look convincing," she says, "so it's about an hour 45 every morning, then about 45 minutes to take it off at the end of the day. It's airbrushed white pigment makeup and a wig, and when I go into full-on zombie mode, the eyes get more sunken and some blue veins come through the skin, and she rages out and makes some noises." PLUS: McIver says the yearlong wait between shooting the pilot and its premiere was beneficial.
21 things that happened on Friends that would baffle today's kids
From Ross' pager to a "black book."
The Mysteries of Laura books Steve Guttenberg to play himself
He'll help Laura slip into the Tribeca Film Festival.
Why Dwayne Johnson would make the perfect Oscar host
He'd be really good at it, says Kyle Buchanan: "As his Saturday Night Live stint proved again this weekend, Johnson is one of our most game performers, a talented and appealing hunk who's willing to do whatever is required of him, with an absence of ego that's striking given his massive frame and fame."
Better Call Saul composer wrote music that could evolve into Breaking Bad's sound palette
Dave Porter, who wrote the scores for both shows, wanted to distinguish Saul with a bluesy vibe. PLUS: Saul has become a very good series that's fun to watch, and Bob Odenkirk can make the perfect Cinnabon.
The Blacklist promotes Hisham Tawfiq
He'll become a series regular starting with Season 3.
Kristen Schaal: I farted on Will Forte during a Last Man on Earth sex scene
Schaal told Seth Meyers how she got him to break. PLUS: How would Last Man be different on cable?, and watch bloopers.
Watch the trailer for the Jiro Dreams of Sushi director's new Netflix series
David Gelb's Chef's Table follows six world-renowned chefs.
CBS' The Dovekeepers is bafflingly bad
The two-part religious-themed miniseries, says Mary McNamara, "is so bad it is virtually impossible to believe it exists in the current landscape of American television. It is so bad that a person could write books about its badness. It is so bad that it should be seen by anyone involved in television in any way, so as to ensure that this level of badness does not occur ever again."
Fox's Weird Loners isn't weird or lonely enough
"If you're expecting a funny comedy about lovelorn, pal-challenged oddballs, ratchet down your expectations," says Jeff Jenson. "Part of the problem with Weird Loners is that it doesn't have the guts to give us nuts worthy of the title. There are flickers of reality in them, but they're mostly pale shimmers of old "Friends" and other TV people." PLUS: It's middle-of-the-road fare, it's not as interesting as its title, and it stands out as a "rom-less com."
TV Land's Younger is worth watching — if you pretend the pilot doesn't exist
The comedy starring Sutton Foster from Darren Star (of Melrose Place and Sex and the City fame indulges all of Star's worst tics in the pilot, according to Alan Sepinwall. But the show does improve episode by episode. PLUS: Younger requires a suspension of disbelief, it manages to make its easy millennial targets interesting, Foster is great — but it's no Bunheads.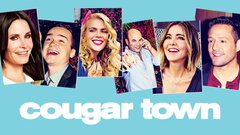 Powered by