Discovery Orders Wilderness Adventure Series Sons of Winter
Randy and Tara Barks live off the grid with their three sons in Northern Saskatchewan, a place so remote that it's two days away from the nearest hospital. Practicing a pioneer lifestyle, the family survives by running a trapline and trading animal meat and fur for necessities.
But that wasn't distant enough for 20-year-old Dale and 19-year-old Shane, who left home and traveled hundreds of miles away to spend 90 days in the wilderness during the coldest months of the year for the new Discovery Channel series Sons of Winter.
The series, which premieres April 28 at 10/9c, follows the brothers as they battle the elements, look for food and adjust to their new landscape. Back at home, Randy and Tara must survive the sub-arctic winter without their two eldest sons. (Their youngest brother, Kole, stays at home.)
Gurney Productions (Duck Dynasty) produces Sons of Winter for Discovery.
Here's how Discovery introduces the Barks clan:
Randy Barks, The Patriarch: Randy is the wise bearded patriarch of the Barks family who has always made the big decisions for his family. With a deep appreciation of nature, he has chosen a life of simplicity and subsistence living in the wilderness and has instilled the same values in his family.

Tara Barks, The Devoted Mother: Tara loves her boys more than anything. She worries constantly about her eldest boys and is uncertain of their ability to survive on their own.

Dale Barks, Eldest Son: 20-year-old Dale asserts his leadership over his younger brothers Shane and Kole. Highly intelligent and often overconfident, he is a dreamer who feels most at home in the woods.

Shane Barks, Middle Son: 19-year-old Shane is Dale's right hand man who has an incredibly strong work ethic. Although he mostly defers to his older brother, throughout the journey, he becomes aware that he may be more fit for leadership.

Kole Barks, Youngest Son: The youngest of the Barks boys, 15-year-old Kole will remain at home while his older brothers embark on their coming-of-age journey. Working closely with his father, he will take on a bigger role on the family trapline.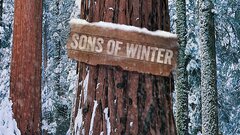 Powered by