The Walking Dead Finale: Executive Producer Gale Anne Hurd on Morgan's Return
It's the reunion The Walking Dead fans have been waiting for all year. Over the course of the AMC drama's fifth season, viewers have gotten brief glimpses at Morgan Jones (Lennie James), a survivor who befriended Rick (Andrew Lincoln) during the show's pilot and returned in the Season 3 episode "Clear." Morgan has been hot on the group's trail after they escaped from Terminus, and in last night's season finale episode, he saved the day by rescuing Daryl (Norman Reedus) and Aaron (Ross Marquand) from a walker trap set by the evil Wolves.
"He's essentially become this zen warrior, but he's still very much an alpha character," says executive producer Gale Anne Hurd. "Even though he understands that there's a purpose for violence, there's not a place for murder. So we'll see exactly how that affects not only the entire group of Alexandria, but also most specifically Rick, when we pick up next year."
Morgan got his first look at the new Rick Grimes after the blood-soaked Alexandria constable shot abusive Pete (Corey Brill) at the town meeting. It's a role reversal from the last time the two men saw each other in "Clear," when Rick narrowly escaped death at the hands of the mentally unstable Morgan. "Morgan's head had really gotten to the point where he was prepared to kill him in cold blood, and now you have Rick essentially executing Pete in cold blood," Hurd says. "You really see how the world has turned on its head in terms of those two characters."
While Hurd could not confirm if James would become a series regular next season, she did hint that Alexandria's troubles are only beginning, even with Rick in charge. "It's no longer this tranquil Shangri-La," Hurd says. "We saw one walker, but who knows how many more may have flooded in." Audiences will find out when The Walking Dead returns for a sixth season this fall.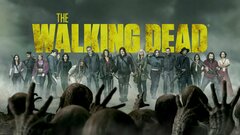 Powered by