Spider-Man's Ultimate Team-Up: 7 Web-Warriors Are Better Than 1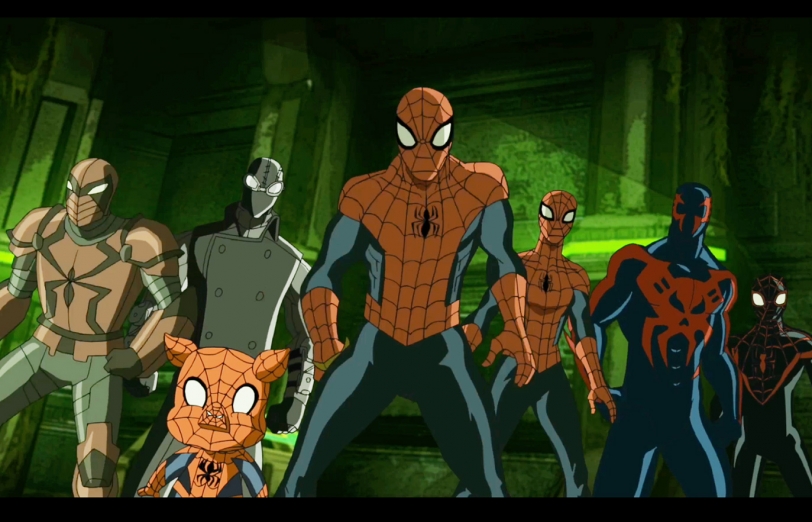 Spider-Man's month-long multi-dimensional adventure comes to a climax this Thursday with an all-star team of web-slingers assembling on Disney XD's animated superhero hit Marvel's Ultimate Spider-Man: Web-Warriors (how's that for a mouthful?!). In the fourth and final part of "The Spider-Verse" arc, the Goblin combines the DNA of the six alternate-universe heroes he's been collecting over the last three episodes to create a formula that gives him enhanced powers.
To stop him, Spider-Man/Peter Parker (series star Drake Bell) calls together the topsy-turvy versions of himself that he's encountered: Spider-Man 2099 (guest-voiced by Freddy Rodriguez), Spider-Girl (Olivia Holt), Spider-Noir (Milo Ventimiglia), Miles Morales (Donald Glover), Spider-Ham (Ben Diskin), and Spyder-Knight (Christopher Daniel Barnes).
We've got an exclusive shot of Disney queen Holt (Kickin' It and I Didn't Do It) in the recording booth with Bell.
Part 4 of "The Spider-Verse" arc on Marvel's Ultimate Spider-Man: Web Warriors airs Thursday, March 26 at 9/8c on Disney XD. Here's a clip from the episode: