PaleyFest: Five Things We Learned From the Jane the Virgin Panel
Oh, baby! The cast and producers of The CW's Jane the Virgin took the stage at Hollywood's Dolby Theatre on Sunday afternoon to celebrate the first season of the Golden Globe nominated comedy. Stars Gina Rodriguez (Jane), Andrea Navedo (Xiomara), Yael Grobglas (Petra), Justin Baldoni (Rafael), Ivonne Coll (Alba), Brett Dier (Michael) and Jaime Camil (Rogelio) joined executive producers Jennie Snyder Urman and Ben Silverman on the panel to share behind the scenes stories from the set.
1. There was pressure to find the right Jane.
In adapting the Venezuelan telenovela Juana la Virgen, Silverman and Urman both admitted to being "stressed" when it came to casting their lead role. "But Gina was the third person to come in [to audition], so I wasn't stressed for that long," said Urman, who cried while watching Rodriguez's audition. "I feel in love with Jane," Rodriguez added. "You seldom get the opportunity to audition for a woman so strong, empowering, fearless…and a virgin! I just knew from that pilot there was something very special."
2. The actors really like each other.
While the 40-minute panel was light on upcoming scoop, the cast had plenty of time to share their admiration for each other and get a little goofy. When Baldoni's shirtless scene from last week's episode was mentioned, Camil said, "Whenever you see Justin's body, they've Photoshopped my body onto Justin's body. That's how much we love each other."
3. The writers are not afraid to tackle important social issues.
Addressing Alba's immigration status in the eighth episode was an important storyline for the producers to explore. "It's so central to the lives of the community we're representing and a part of the family," Urman said. "If things are just politicized, you take them as medicine. But the hope is that you're attaching it to personal experiences and you're not preaching." Coll also argued that the show is so much bigger than the one Latino family it's following. "I'm representing a demographic that is real and exists and we have to address that," she said. "We are part of the fabric of our nation with our work and we contribute."
4. One character barely made the cut.
When Urman wrote the pilot, she included a narrator, voiced by Anthony Mendez, who has since made his presence known in every episode and become a fan favorite. "But that was a big debate," Silverman admitted. "Then we had subtitles, texts, emoticons and emails. Anytime you would have tried them producing other shows, they would have gotten a no. But Jennie threw them all in. It was brilliant."
5. The cast partied hard at the Golden Globes.
When word came that both the show and Rodriguez were nominated for Golden Globe awards, there was an abundance of screaming and hugging on the set. "I got naked!" Camil exclaimed. Added Baldoni: "I think we were all shocked. We all were hoping and praying for Gina and that was the truth, she deserves it. When you're in a scene with Gina, it makes you better." When they finally got to the ceremony, Camil said he was praying at the table and they almost missed the show's category because they were too busy celebrating Rodriguez's win."We were the loudest group of people at the Golden Globes," Grobglas said. "I don't think we're getting invited again," Camil replied.
PaleyFest concludes later today with the panel for American Horror Story.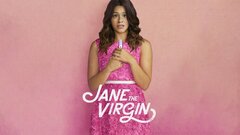 Powered by