What's On: Einstein a Randy 'Genius,' Finale of 'Face Off,' 'Great News' and '48 Hours' Goes 'NCIS'
Genius (9/8c, National Geographic Channel): It's a good thing Albert Einstein stuck with relativity. Because according to this overheated yet enjoyable biographical portrait, his theory of relationships left much to be desired. As if to assure us this won't be a dry treatise on physics, the first episode of this 10-part anthology series (directed by Ron Howard in A Beautiful Mind mode) introduced Geoffrey Rush's irreverent genius pants-down with his mistress, defying orthodoxy by suggesting she move in with him, his wife notwithstanding. Genius doesn't so much dumb down Einstein's story as humanize him as a charismatic visionary who, even in his rebellious youth (appealing played by Johnny Flynn), chafed against authority and bourgeois convention. He confounded his family's expectations and challenged professors' patience, breaking hearts and rules with arrogant aplomb. Visually sumptuous in its Czech locations, using animation to illuminate Einstein's theories of time and light, Genius may not entirely avoid the hokey pitfalls of the biopic genre, but it makes you feel smart for watching.
(Should Genius pique your interest in all things Einstein, Science Channel's Space's Deepest Secrets offers two episodes exploring his theories: "Was Einstein Wrong?" at 9/8c and "Black Holes: The Einstein Prophecy" at 10/9c.)
Face Off (9/8c, Syfy): Another fantastic season of this creature make-up competition comes to a close with three remaining all-stars—each worthy of a win, although I'm pulling for Cig. It's a true and literal battle to the end, with the final challenge involving the creation of pairs of Kung Fu animal warriors, who'll face off (get it?) in an elaborate fight scene. And don't worry about withdrawal. Syfy doesn't let too much time pass between seasons, and the next is already scheduled to begin June 13.
Great News (9/8c, NBC): Mixed news about this too-hysterical sitcom from a number of 30 Rock veterans (including executive producer Tina Fey): Despite the best efforts of the sublime Andrea Martin and a solid bench of supporting comedy pros, it plays like the sort of show 30 Rock used to parody in its absurdist blackouts. Welcome to Intern Mom, in which Emmy- and Tony-winner Martin goes to work on her daughter Katie's (Briga Heelan) low-rated cable-news show The Breakdown, which pretty well describes the fraught relationship of mismatched anchors Chuck (John Michael Higgins), an old-school blowhard, and Instagram idjit Portia (Nicole Richie). The ambitious but insecure Katie's infantile neuroses make her seem a younger sister to Debra Messing's Grace, but not in a good way. The jokes are hit-and-miss, and the vibe oddly artificial and retro. On the other hand, it's a step up from Martin's last NBC flop, 2014's mercifully short-lived Working the Engels. (To see Martin in truly inspired comic company, head to Hulu's Difficult People.)
The Americans (10/9c, FX): If there's a dramatic upside to the departure of the Jennings' handler Gabriel (Frank Langella), it's the return of the much scarier Claudia (Emmy winner Margo Martindale), who's not a fan of the spy team's increased ambivalence. Even Elizabeth (Keri Russell) says, regarding daughter Paige's (Holly Taylor) prospects: "Wouldn't it be a nice world if nobody had to do this?" Back in Moscow, Oleg (Costa Ronin) might agree, as KGB agents ransack his room. And his mother, who knows from Russian prisons, warns, "They find things even when there's nothing." The Americans just got extra chilly.
48 Hours: NCIS (10/9c, CBS): Just when you didn't think it was possible for CBS to spin off its top-rated franchise further, along comes CBS News with a six-part docu-series from its true-crime division. Rocky Carroll narrates the series based on real NCIS cases, starting with a decade-long investigation into the violent deaths of two Navy petty officers. Bet it wouldn't have taken Gibbs & Co. that long.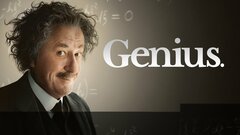 Genius
where to stream
Powered by