Watch My Show: Jack McBrayer Wants You to Go to Bed Angry With The Jack and Triumph Show
TV's oddest couple may be Jack McBrayer and Triumph the Insult Comic Dog (voiced by writer-comedian Robert Smigel). A joint 2012 appearance on Conan led to their new sitcom on Adult Swim (the network that shares a channel with Cartoon Network), which features McBrayer as a former child star now living with his TV mom (June Squibb). His life gets complicated when his former costar, Triumph, returns. McBrayer tells us why Jack and Triumph is a good series…and not just to poop on.
I have time to watch one more show. Why should it be yours?
After a hard week, don't you owe it to yourself to go to bed angry?
Who should be watching?
The parents of the 13-year-old boys and stoned college kids who are already watching. Let's make it family viewing!
What happens if we don't watch your show?
You will miss out on the crudest antics that two puppets can deliver.
What's the best thing anyone has said or written about your show?
"Jack McBrayer seems so lifelike." –AdultSwim.com
What's the worst thing?
"Are you still in touch with Tina Fey?" –Betty McBrayer
Who was right?
I guess Adult Swim, 'cause Tina Fey will not return my calls.
What's an alternate title for your show?
I wish it was something like from a poorly translated Korean bootleg of the show. Perhaps Bad Cigar Dog Please Enjoys Ruding White Fool Boy.
Give us an equation for your show.
ALF x 1/4 ALF's drug use + Ted – the star power ÷ by Lassie x The Odd Couple. Remainder four.
Come up with a premise for the spin-off.
June Squibb falls in love with a man who is convinced that he's won the lottery. In Nebraska.
Tell me one thing we don't know about Jack McBrayer.
I am currently taking piano lessons. And I am really, really bad.
If you weren't on this show, what series would you most like to be on, and what would you do?
I would love to work on locations for 'Hawaii 5-0'. I mean, come on…
Let's scare the network. Tell us an idea that didn't make it on to the screen.
It is with heavy heart that I inform you that every idea we've pitched to Adult Swim has made it on. And I have the battle scars to prove it.
Finish this sentence: "If you like _______, you'll love our show."
Furrowing your brow in confusion
Which show would you like to poop on?
Downton Abbey thinks they're pretty great.
With which show would you like to do a crossover?
Game of Thrones! I'm sure Triumph and I would get Red Weddinged in the first five minutes.
How will your show change the face of TV as we know it?
We are truly paving the way for late night, half hour, multi-camera, live action, studio audience sitcoms starring Oscar nominees and Emmy losers! Woo hoo!!!
The Jack and Triumph Show, Fridays, 11:30/10:30c, Adult Swim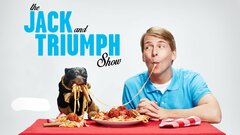 Powered by