First Look: Nick Offerman Returns to 'Gravity Falls' in a Big Cliffhanger
Ron Swanson lives! Parks and Recreation fans still mourning the show's finale this week can look forward to the return of actor Nick Offerman on an upcoming episode of Disney XD's animated cult hit Gravity Falls.
Offerman returns as the voice of Agent Powers in the episode "Not What He Seems," which airs Monday, March 9 at 8:30/7:30c. In the cliffhanger, government agents take Grunkle Stan into custody, while Dipper (Jason Ritter) and Mabel (Kristen Schaal) are left to wonder what they really know about their great uncle.
This marks the third appearance on Gravity Falls for Offerman, who also played Agent Powers in the episodes "Scary-oke" and "Northwest Mansion Mystery." In "Scary-oke," Offerman was credited as "Key Vigenére," a reference to the cryptograms spread throughout the season for viewers to decode.
Offerman has lent his voice to several animated TV and movie works over the past few years, including a recent appearance on The Simpsons. "I have always loved animation and always dreamed of getting to work in animation," he told us last fall. "So between Axe Cop and Bob's Burgers and Gravity Falls, and some other disparate jobs like The Lego Movie, I've had a wonderful sense of wish fulfillment in getting to work on some of the smartest and funniest animation happening."
Here's a first look at Offerman's latest Gravity Falls appearance.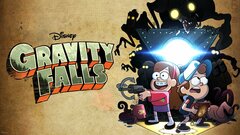 Powered by