Today in TV History: The Mod Squad Met a Cool Cat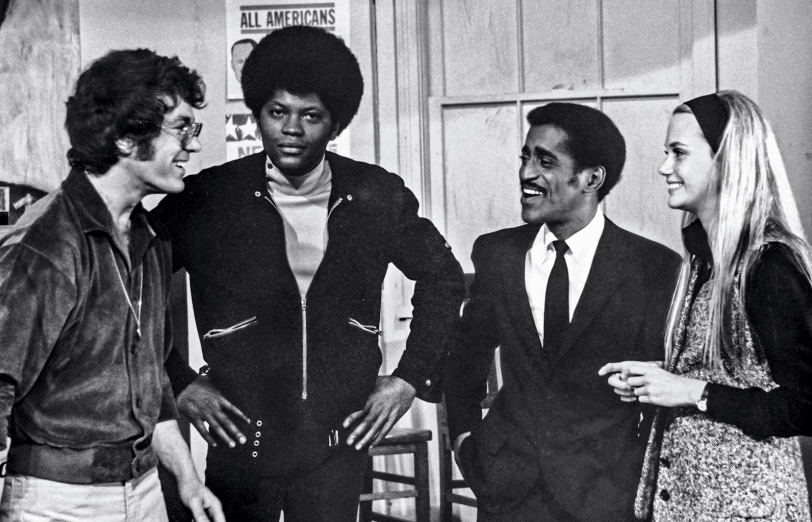 When: March 4, 1969
Where: Los Angeles
What: Sammy Davis Jr. shoots a guest spot on The Mod Squad.
From the title alone, you knew The Mod Squad (which ran for five seasons on ABC) had to be hip. So when the counterculture cop show about three young undercovers (Michael Cole, Clarence Williams III, and Peggy Lipton, mother of Rashida Jones) needed to find someone to play a liberal activist priest running from a killer hood (Robert Duvall), they discovered the Candy Man could. Cole (rebel rich boy Pete) recalls his encounter with Rat Packer Sammy Davis Jr.
Cole: What got Sammy interested in The Mod Squad was the episode "My, What a Pretty Bus." At the end, Pete pulls up on a motorcycle and he, Julie [Lipton], and Linc [Williams] embrace. I think it was the first time on TV that you had a white guy, a black guy, and a blonde in one shot hugging each other. It was a powerful image. Sammy saw that and said, "I've got to do this show." So he called [executive producer] Aaron Spelling.
When Sammy first showed up, it was like a moving company was arriving. All the stuff he had! He had a wardrobe in his dressing room, and the costume guy was fitting something just for him. I was a little nervous, but Sammy came running over and hugged me. He wasn't that big, but damn, he was strong! Once Sammy was there, [you felt] instant love.
There's that old line: If you open a refrigerator door, the light goes on and Sammy does 10 minutes. The crew loved him. One time while he was at lunch, they brought his Rolls-Royce on the stage, rigged it up with a bunch of pulleys, and pulled it way up to the ceiling. Sammy returns and says, "Where the hell is my car?" He goes up to Aaron's office, and Aaron starts laughing. Sam comes back, and the crew points up to his gold Rolls. He went nuts, doing about 20 minutes of dancing, singing, and laughing. It was a great moment, and it was all because he saw that episode with the three of us hugging.