What TV Academy's Groundbreaking Rule Changes Mean for 2015 Emmy Awards
This year's Emmy season may have just been turned upside down. The TV Academy on Friday unveiled its most aggressive litany of rule changes in years, which could put a big dent in several network and studio campaigns.
In the most groundbreaking announcement, the Academy narrowed the definition of "comedy series" to half-hour shows and "drama series" to hour shows. That means programs like Orange is the New Black would conceivably compete in the drama category, instead of the comedy competition they're accustomed to.
The changes go a long way toward addressing some of the issues of series eligibility that have confused producers and allowed some to try and game the system, submitting their programs in categories that don't quite make sense as a classification, but strategically offer better odds.
But hold on–there's a loophole. According to the Academy, producers may formally petition a new Academy industry panel to consider their series' eligibility in the other category. "This nine-member panel will include five industry leaders appointed by the Television Academy Chairman and four appointees from the Board of Governors," the new rule states. "A two-thirds vote of this Industry Panel is required for petition approval."
This new Academy panel is going to be busy – and could potentially be stepping into a minefield if it gives some shows permission to swap categories while denying others.
"The Board of Governors passed the 30-60 rule knowing full well that it wasn't applicable to all comedies and dramas and dramadies, but it — with the appeal clause — was a place to start," says TV Academy senior vice president of awards John Leverence. "Emmy categorization is ultimately based on the preponderance of comedic and dramatic content."
Already executives at studios and networks with shows that will have to move categories are quietly saying, off the record, that they will petition to keep their shows in the categories they want.
The producers for Showtime's Shameless, for example, will likely want to stay in the comedy race after being allowed last year to switch from drama – where it had competed since 2011. Executive producer John Wells asked and received special dispensation to move the show. Similarly, Netflix's Orange is the New Black – which has elicited grumbles from rivals for competing in the comedy field – nonetheless might argue that it should be grandfathered in, since it competed last year as a comedy.
But Leverence says there will be "no grandfathering. Petitions will be reviewed by committee."
The Orange producers might also point out that Showtime's Nurse Jackie is just as dark, and its laughter quotient is also frequently called in question, yet as a half-hour show would now be automatically entered as a comedy.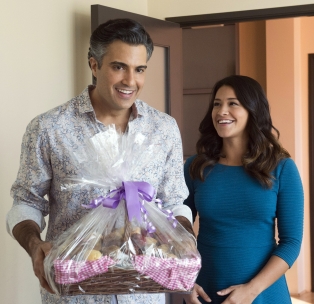 Then there are the new contenders, like The CW's Jane the Virgin (right), which is an hour-long show, but just as campy as past hour-long Emmy comedy winners Desperate Housewives and Ally McBeal. Plus, Jane just won star Gina Rodriguez the Golden Globe Award for best actress in a TV comedy.
It would be hard for the Academy to move any of those shows into the drama category – which might effectively make the rule change moot.
Even Amazon's Transparent, a dramatic show with not a lot of laughs, probably would have lost the battle to be considered a comedy if it was an hour-long. But the show is a half-hour and therefore eligible to compete as a comedy.
Meanwhile, another program classification rule change, the attempt to delineate between regular and limited-run series, may also wind up being watered down by the petition process.
"Mini-series," which will be dubbed "limited series," are now limited to "programs of two or more episodes with a total running time of at least 150 program minutes that tell a complete, non-recurring story, and do not have an ongoing storyline and/or main characters in subsequent seasons." But like the comedy/drama divide, producers on the series/limited series divide can petition that same industry panel to change category eligibility.
Under the new definition of "limited series," both FX's American Horror Story and Fargo fit the bill, since the characters change each year. That could also include HBO's True Detective, which competed last year in the drama series category.
The new rule supercedes the old one, which relied on whether a show received a "created by" credit. If it did, it was considered a series. (That's why Ryan Murphy had to get special dispensation to move American Horror Story, which has a "created by" credit, to the miniseries field.) True Detective also had a "created by" credit, which means last year the series category was its proper home.
But now, "we have dropped the 'created by' credit rule," Leverence says. "If this year's True Detective is structured along the same lines as last year's series, it will be categorized as a Limited Series."
Still, the Emmys continue to define comedy and drama series as "programs with a minimum of six episodes which have an ongoing storyline, theme and main characters presented under the same title and with continuity of production supervision." That might seem to also fit True Detective — giving it a good chance of being able to argue to the Academy committee that it should stick to the series competition.
The Emmy change that will absolutely have an impact on this year's proceedings is the decision to split the Variety Series category into two: Outstanding Variety Talk, to be awarded during the Primetime Emmy telecast, and Outstanding Variety Sketch, to be included in the Creative Arts Emmy program.
That would seem to go against the TV Academy's desire to avoid what it deems "awards proliferation," but it's also a way to finally find room to honor TV's explosion of sketch comedy shows. Talk shows like The Daily Show have dominated the Variety category, but this now gives series like Portlandia and Key and Peele a chance to win an award.
"The Board of Governors was aware that for the last two years there were 14 or more sketch and 14 or more talk shows [eligible for] Variety Series," Leverence says. Under the Academy's "Rule of Fourteen," that makes them eligible for their own categories, and prompted the Board to open a discussion of the split.
Meanwhile, the TV Academy has also enacted what might be called the "Crazy Eyes Rule."
Last year, Orange is the New Black star Uzo Aduba won the Emmy Award for Outstanding Guest Actress in a Comedy Series, yet many observers pointed out that her character, "Crazy Eyes," was seen throughout the season and was much more than just a guest. Now, only performers appearing in less than 50% of a program's episodes are eligible to submit in the "Guest Actor" category.
Also, due to industry demand, the number of nominees in the comedy and drama series categories has expanded from six to seven. The TV Academy credits an increase in series production for the change, and indeed this will allow at least one additional worthy show to receive recognition. But it's also been argued that there would be enough eligible shows to expand the field all the way to 10, much as the Oscars have done in the best picture category.
One more rule change could also have an effect on who wins the major Emmy awards. Now, anyone who was eligible to vote in the Emmy nomination round can also vote in that category's final round, as long as they meet two additional requirements: Voters must watch the required submitted material online and attest that they have no specific conflict of interest with the nominees. (In other words, a network can't suddenly organize an army of voters to secure a win.)
"Whenever a voting pool is expanded and refreshed, there is a possibility that the voting outcome will be affected," Leverence says. "Ever since the Board of Governors took the final judging out of Beverly Hilton panel rooms, where screenings were monitored, and into the home environment, where screenings are not monitored, the Television Academy has relied on the conscientious good faith of the voters, who signed and will continue to sign affidavits attesting to their compliance with the screening rules and to no specific conflicts of interest with the nominees."
(Updated with quotes from Leverence, 5:13 p.m. ET)