Watch My Show: Why You Should Make Penn Zero: Part-Time Hero a Full-Time Commitment
Disney XD's new animated series Penn Zero: Part-Time Hero stars Thomas Middleditch (Silicon Valley) as the voice of Penn Zero, an average boy who lands the not-so-average job of being a part-time superhero. The comedy follows Penn as he morphs into different guises – fish-prince, clown cop, giant monster, tiny action figure – to travel into other dimensions and battle evil part-time villain Rippen (Alfred Molina).
Adam DeVine (Pitch Perfect), Tania Gunadi (Enlisted), Larry Wilmore (The Nightly Show), Lea Thompson (Back to the Future), Gary Cole (Veep), Rosie Perez (The View) and Lenny Venito (The Neighbors) also provide voices.
Season 1 of Penn Zero, which premieres Friday, February 13 at 9:45/8:45c, is bursting with guest star voices: Sigourney Weaver, Jason Alexander, Wanda Sykes, Adam West, Beau Bridges, Garry Marshall, Paul Reubens, Elizabeth Henstridge, Sean Astin, Chris Parnell, Diana Rigg, Olivia Holt and Bruce Vilanch.
We asked creators and executive producers Jared Bush (All of Us) and Sam Levine (Bolt), who also provides voices, why we should make Penn Zero: Part-Time Hero a full-time commitment.
TV INSIDER: I've got room in my life to watch just one more show. Tell me why it should be yours.
Sam Levine: We're sending five funny multi-faceted characters to completely new universes each and every episode. They will change costume, age, species, even gender once in a while. The worlds are varied, exciting and crazy. It's wish fulfillment, epic adventure and wall-to-wall comedy. We have a uniquely cool, beautifully crafted look for animation. And our voice cast is full of hilarious improv comedians/gifted actors.
Jared Bush: Mainly, I am concerned that you only have room in your life for one more show. That's just incredibly poor planning.
TV INSIDER: Who should be watching?
Levine: Everyone on planet Earth. Even old people. Anybody who wants to be transported to cool, funny and weird worlds each and every week should watch. It's for your kids and it's for you, even if you don't have kids. It's for your parents too, if you're a kid. And if you're a kid, do your parents know you're reading this? They probably should. To wrap this answer up, if you like boring and lame stuff, stay away from this show.
TV INSIDER: What happens if we don't watch your show?
Bush: Sam will lock himself in his office and cry until he dehydrates. Again.
TV INSIDER: What's the best thing anyone has said or written about your show?
Levine: "The show is gorgeous! The animation and art direction are top notch! Very fun solid comedy throughout! Can't wait for the rest of the episodes!"
TV INSIDER: What's the worst thing?
Bush: "Sam could be more handsome."
TV INSIDER: Who was right?
Levine: I completely agree with the 'best thing.' They're just stating facts.
TV INSIDER: What's an alternate title for your show?
Levine: Stop Watching Other Cartoons Because This One Now Exists.
Bush: Penn Zero: Part Time Hero. It's the same thing, just minus the hyphen. We spent months and months debating that hyphen.
TV INSIDER: Give us an equation for your show.
Levine: Back to the Future plus Star Wars plus The Goonies to the Ghostbusters-th power, times The Avengers (minus the part where Nick Fury talks to all the leaders of the world on screens. The very opening scene, those parts went on too long.) multiplied by Indiana Jones, Monty Python, Halo 4, Frankenstein, Pokemon, Nascar, Double Indemnity, The Jungle Book, Lord of the Rings, James Bond, Power Rangers, Cinderella, A Circus, Harry Potter, Dr. Seuss, The Walking Dead, divided by 11 minutes.
TV INSIDER: Come up with a premise for the spin-off.
Levine: Penn Zero: Baywatch Nights. At night, Penn solves crimes with other lifeguards. Totally legit.
Bush: Penn Zero: Part-Time Gyro. It's the same exact show, except Penn is a Greek meat sandwich. Actually, we should do that.
TV INSIDER: What credit of yours would you prefer we forget?
Levine: It's Complicated.
Bush: Love Hostages 2, a home video I made with my brother and best friends when I was in high school. You don't want to know what it was about. Love Hostages 3, though, was amazing.
TV INSIDER: If you weren't on this show, what series would you most like to be on, and what would you do?
Levine: Breaking Bad, take a bow.
Bush: The Bachelorette. Anything it takes to get that rose. Anything.
TV INSIDER: Let's scare the network. Tell us an idea that didn't make it on to the screen.
Levine: It involved squirrels, partial nudity, broken glass and no seatbelts whatsoever. That's all I can say.
Bush: That was not an idea for the show, that is Sam's recurring dream.
TV INSIDER: Finish this sentence: "If you like _______, you'll love our show."
Levine: 'Laughing too much, crazy adventure and uber surprises.'
Bush: I think that sentence is perfect as is.
TV INSIDER: Pick another show, any show, to start a fake feud with?
Levine: Sweet Genius, your host was super weird. Let's dance. It's on.
Bush: Sam, you do not want to pick a fight with Sweet Genius. Definitely not a dance.
TV INSIDER: What other show would you like to do a cross-over episode with — and how would that go?
Levine: Technically, every single episode of Penn Zero is already a cross-over episode with other worlds and the characters within those worlds. Please don't make us jump the shark so early. We already had Henry Winkler on, so shark-jumping is a no-no.
Bush: It's true, that's what we love about the show. Every episode we get to cross-over into any story/character/world/genre/adventure we can imagine.
TV INSIDER: How will your show change the face of TV as we know it?
Levine: Our completely unique, innovative animation style is some next-level stuff and you've never seen anything like it on TV or in theaters. We have richly painted textures on 2D characters with feature-style full animation that's fluid and funny. We have real characters that say and do crazy funny things, go on impossible missions every single episode, and we play in any genre you could imagine – and at least few genres that you probably couldn't. Not judging you, just saying. Our show is 50/50 comedy and adventure. And the glue that holds it together are characters you'll want to hang out with each week, and see what they're up to.
Bush: And Penn's face literally changes in every episode, so even if we don't change the face of TV, we still have that.
After its Friday premiere, new episodes of Penn Zero: Part-Time Hero will also air Saturday, February 14, at 9/8c; Sunday, February 15, at 9/8c; and Monday, February 16, at 9:15/8:15c.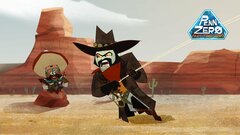 Powered by