Roush Review: 'The Great War' is a Wrenching Documentary About the First World War
At the time, it was meant and hoped to be "the war to end all wars." Now we all know better.
And while The Great War, a sprawling and engrossing three-night presentation of the renowned American Experience series, may not be the war documentary to end all war documentaries—given that Ken Burns's long-awaited 10-part The Vietnam War is heading our way this fall—there is value in this often wrenching account of how and why the U.S. entered this terrible and first modern war.
A century ago, in April, President Woodrow Wilson ended the official U.S. policy of neutrality in the conflict that had ravaged Europe since 1914, declaring war on Germany with the decree, "The world must be made safe for democracy." Wilson is a central and contradictory figure in The Great War. A visionary progressive and moralist who saw the possibility of a new world order emerging from the ashes of combat, with America poised to shape the peace, Wilson was also a racial segregationist, and he oppressed dissent against the war effort with the passage of controversial Espionage and Sedition Acts.
See Also
Matt Roush review the new IFC comedy 'Brockmire', starring Hank Azaria and Amanda Peet.
As the episodes frequently and effectively shift focus from the global to the personal, filmmakers Stephen Ives (a former and longtime Burns collaborator), Amanda Pollak and Rob Rapley ground this complex history in stirring vignettes of sacrifice and service, with first-person accounts by soldiers, nurses and journalists who had never imagined carnage on this scale. The influenza epidemic of 1918 added to the crushing toll of human loss.
The Great War doesn't shy from the battles also raging on the home front among pacifists and suffragettes seeking a voice for women. Even after the Armistice of 1918, domestic peace was uneasy at best, with African-American soldiers (including those of the celebrated New York 15th National Guard regiment) returning to a Jim Crow society and deadly race riots.
Comprehensive and compelling historical narratives like those offered by American Experience remind us of the essential mission of the Corporation for Public Broadcasting, whose federal funding has once again come under fire, the latest salvo in a culture war that continues to this very day.
The Great War, Monday–Wednesday, April 10–12, 9/8c, PBS (check local listings at pbs.org)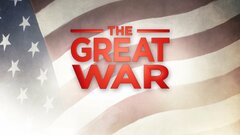 Powered by