'The Magicians': Penny and Kady Play Head Games with Q (VIDEO)
If politics make for strange bedfellows, magic makes even stranger friends. Case in point: The slowly evolving fellowship amongst the Brakebills posse this season on The Magicians. Originally a disparate and divided collection of kids at a mystical college for those with fledgling powers, their shared battles with the Beast (Charles Mesure) and the supernatural loss of Alice (Olivia Taylor-Dudley) have bonded Quentin (Jason Ralph) with his fellow students, including Penny (Arjun Gupta), the prickly teleporter who has developed a bit of a softer side after losing his hands and ability to do magic after a showdown with the show's big bad.
"I'm really grateful for what the writers have thrown at Penny," says Gupta of his character's arc, which reaches a startlingly lovely high point in Wednesday's episode when he opens up to ex Kady (Jade Tailor) about his recent setbacks. And it's a good thing he's ready to start connectiing more with this crew, since "we still have to come together against the Beast," Gupta adds. "And that is another place of discomfort for Penny, because he doesn't really want to be in a group at all."
See Also
The actor behind the grumpiest character on Syfy's The Magicians also reveals the other role he auditioned for on the show.
Before that, however, there is the matter of solving Q's latest quandary: Alice's vengeful consciousness trying to overtake his body. In this exclusive clip from tonight's episode, Penny and Kady—who don't yet understand what is plaguing their troubled classmate—put their matters of the heart aside for the greater good of getting into Quentin's head. Literally.
The Magicians, Wednesdays, 9/8c, Syfy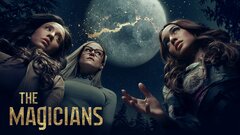 Powered by