What's On: '24: Legacy' Reaches Back Into the Franchise's Past to Resurrect a Familiar Frenemy
24: Legacy (8/7c, Fox): How do you follow a calamity like a terrorist explosion on the George Washington Bridge? By taking a bridge to 24's past, which this week involves bringing in the now-notorious Tony Almeida (Carlos Bernard) from the cold. He's recruited by ice queen Rebecca (Miranda Otto) to threaten her own father-in-law, Henry Donovan (Gerald McRaney), with torture (aka "enhanced interrogation") to get him to spill what he knows about the terrorists to whom he leaked the names of the dead hero soldiers. Speaking of soldiers, Eric Carter (Corey Hawkins) is on a potential suicide mission, enlisting poor Andy (Dan Bucatinsky) to rescue his wife and brother with no guarantee of surviving the encounter. And it's only 6 pm!
See Also
Carlos Bernard—as the enigmatic Tony Almeida—opens up about returning to the '24' universe.
Superior Donuts (9/8c, CBS): This genial if familiar workplace sitcom, by default the best comedy on CBS's Monday lineup, is most interesting when it confronts issues beyond the walls of the titular donut shop. And so it is when Franco (Jermaine Fowler) chafes at being subjected by a Chicago cop to a random stop-and-frisk that invites a debate on the subject of racial profiling and "unconscious bias." It plays like a "very special episode," complete with lessons learned and a hug. When Franco tells his boss Arthur (Judd Hirsch), "You have no idea what I deal with out there," you might wish the show would go "out there" more often.
Cries From Syria (10/9c, HBO): Marking the sixth anniversary of the Syrian uprising, and the humanitarian crisis that ensued at the hands of President Bashar al-Assad, his Russian enablers and ISIS terrorists, this documentary from Evgeny Afineevsky sounds a watchcry against human-rights atrocities. An original song, "Prayers for This World," was written for the film by Diane Warren and performed by Cher with the West Los Angeles Children's Choir.
Inside Monday TV: The latest season of Pimp My Bride—otherwise known as ABC's The Bachelor (8/7c)—concludes with Nick choosing between Raven and Vanessa. (Who you consider the lucky one depends on your feelings about this tawdry reality hit.) As always, an After the Final Rose special foolws at 10/9c, introducing new Bachelorette Rachel Lindsay. … On CBS's Man With a Plan (8:30/7:30c), Adam (Matt LeBlanc) can't believe his eyes when he meets dweeby Lowell's (Matt Cook) wife, a knockout played by Jenna Dewan Tatum. … Moving from MTV2, VH1 Hip Hop Squares (10/9c) puts a decidedly funky spin on the game-show classic, with Ice Cube producing and appearing, along with celebrity guests including Mel B, Nelly, Cedric the Entertainer and lots more hip squares.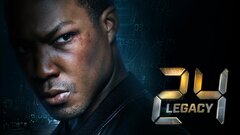 Powered by