First Look: 'Star Trek: The Next Generation' Never-Before-Seen Photos
This year marks 30 years of Star Trek: The Next Generation, the Patrick Stewart led Star Trek spinoff which ran from 1987-1994.
To celebrate, every day this year Roddenberry Entertainment will be releasing a new, never-before-seen image from TNG on its Facebook page. TV Insider has an exclusive image from the Roddenberry Entertainment vault of Star Trek original cast member Leonard Nimoy, who was a guest star on The Next Generation.
The image is from the eighth episode of the show's fifth season titled "Unification"—a two-parter that aired on November 11, 1991. These two episodes were Nimoy's only time on TNG. In the episode, Captain Picard (Stewart) runs into Ambassador Spock (Nimoy) on Romulus, where Picard is tasked with telling Spock his father has died.
The photo also features Denise Crosby as Sela (right). Check it out below!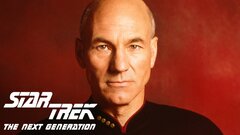 Powered by