Roush Review: A Colossal Blunder Ends a Long Oscar Night
If you turned the TV off once La La Land was announced as Best Picture at the 89th Academy Awards—and who could blame you if you'd drifted away far earlier in the bloated evening—you'd have missed the freakiest moment in this critic's lifetime of Oscar watching (and that includes the year of the streaker).
In an incredible fiasco that prompted many a "Dewey Defeats Truman" reference on social media, movie legends Faye Dunaway and Warren Beatty announced the wrong winner for the Oscars' top prize, apparently having been delivered an incorrect envelope (one reading Emma Stone, who had already accepted her La La Land Best Actress trophy). The underdog win for Moonlight would have been a stunning upset moment even without this embarrassing snafu, but in an otherwise mostly predictable night, the mishap became an instant touchstone of Oscar TV history, though not in a good way.
"I blame myself for this," said host Jimmy Kimmel as he wrapped the show at an unconscionable 3-hour, 45-minute mark, trying to make sense of the on-stage chaos, which found the La La Land producers interrupted mid-speech and conceding defeat in the most public and humiliating way possible, while also robbing Moonlight of its deserved moment of triumph. No, Jimmy, this wasn't your fault, though you share plenty of blame for the snoozefest that preceded this unprecedented mess of a final act.
Hosting the Oscars is most often a thankless task, and Kimmel's brand of irreverent snark kept the show aloft for at least a while, including a lightly barbed monologue that wasn't even the curtain-raiser, instead following Justin Timberlake's opening dance number from Trolls (which came off like a second-rate version of "Happy"). The requisite Trump jokes scored with the audience—"Remember last year when it seemed like the Oscars were racist?"—and his best moment was prompting a standing O for 20-time nominee Meryl Streep's "lackluster career," a nod to the president's angry response to her scathing speech at the Golden Globes.
But much like the Oscar show itself, Kimmel didn't know when to quit. Announcing a food drop of candy upon the glittering and starving crowd was a cute move—although not as fresh as Ellen DeGeneres's pizza delivery of several Oscars ago—but when it happened a second and then a third time, the thrill was gone. Ditto his long-running feud with Matt Damon, a staple of Kimmel's late-night show, which he milked all evening long with diminishing returns. If they'd saved that shtick for the truly hilarious bit when Damon was being played off while presenting (with Kimmel conducting the orchestra), it would have been brilliant. Instead, it felt overdone.
And the prank where Kimmel led a tour-bus full of gawking fans into the theater was a clever idea clumsily executed, and it went on like everything else far too long.
The impulse to keep things light and silly is understandable, given the fraught political climate here and abroad. Among the night's more powerful moments of life reflected in art: a message read from Iranian foreign-film winner The Salesman's director Asghar Farhadi condemning the U.S. immigration ban targeting Iran and six other countries.
Emotion also tends to run high on Oscar night, and Viola Davis's impassioned speech for her Fences win prompted Kimmel to joke that she had just been nominated for another Emmy for her delivery.
Which, to be honest, is the best chance this tedious night would ever have to win an award of its own.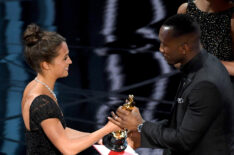 See Also
Which film won best picture at the 89th Academy Awards ceremony? Was it La La Land?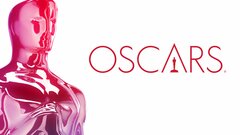 Powered by