Chrissy Metz: No One Is Ready for What's About to Happen on 'This Is Us' Finale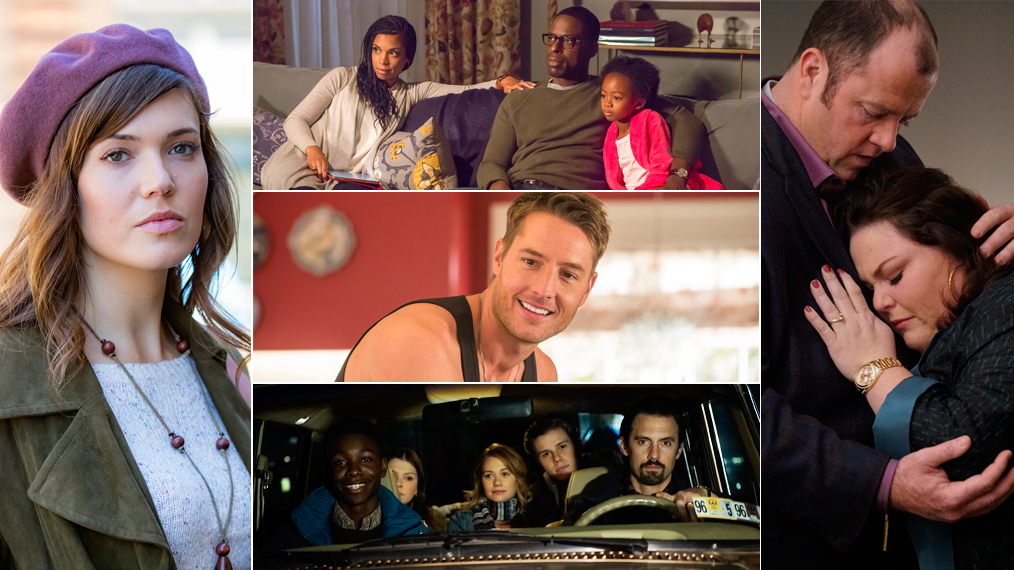 Preview
NBC
With the final two episodes of This Is Us fast approaching, let's begin by stating the obvious: We're gonna need a bigger box of Kleenex. After all, NBC's breakout freshman dramedy—which chronicles the highs and lows of the Pearson family using a time-bending narrative that alternates between past and present—is notorious for reducing its 10 million devotees to helpless puddles on a weekly basis. So it should come as no surprise that Season 1 is poised to sign off with a crescendo of emotional pyrotechnics. "Viewers' heads are going to pop off their bodies," confirms Chrissy Metz, who plays Kate, one member of the show's sibling trio. "Nobody is ready for what's about to happen. I know I wasn't!"
Well, at least we've been warned. The sensory gauntlet commences in the March 7 penultimate episode, as the modern-day crew—including Kate and her twin, Kevin (Justin Hartley), and their adopted brother, Randall (Sterling K. Brown)—bids farewell to Randall's biological father, William (Ron Cephas Jones). "Coming off of William's death, everybody is going to be stripped a little raw," warns creator Dan Fogelman. Naturally Randall, who just recently forged a bond with his birth dad, only to lose him to cancer, will be especially vulnerable. The once buttoned-up career man—an executive in the fittingly opaque field of weather derivatives—has been coming increasingly unglued, and he finally reaches his tipping point. "Some of what comes out is surprising," says Fogelman. "Randall is at a real crossroads, and that's when we make our boldest choices."
See Also
The NBC drama has kept the circumstances surrounding Jack's death a secret thus far, but fans have their own ideas about how Jack died on 'This Is Us.
He won't be alone. Former sitcom star Kevin, who's been striving, with intermittent success, to shed his "himbo" mantle and be taken seriously as a theater actor and then some, will continue to be an unsteady work-in-progress, particularly now that his ex-wife, Sophie (Alexandra Breckenridge), is back in the picture. "He's trying to become a more fully realized boyfriend, brother, son and actor, and all that comes to a head," Fogelman says. "There's one big step forward with lots of steps back."
At least Kate, fresh from being kicked out of weight-loss camp but undeterred in her quest to conquer her physical and mental issues, is committed to staying in forward motion. "She's coming into her own and putting herself first," Metz says. Of course, part of that will require figuring out what lies ahead for her and fiancé Toby (Chris Sullivan). "They love each other, but there's still so much to uncover," Metz says. Kate also makes a revelation about her unresolved feelings toward her late father, Jack (Milo Ventimiglia). "When we do start to discover those demons?" says Metz. "Holy smokes!"
On that note, consider the stage officially set for the big finish. The season finale focuses almost exclusively on the circa-1996 relationship between Jack and his then-still-wife, Rebecca (Mandy Moore)—and anyone hoping for more "awww"-inspiring glimpses of their greatest romantic hits is in for a bumpy landing. "We've seen them in happy times and in trying times, but never before in perilous times," says Ventimiglia. "Things are going to be as dark as they can be in a marriage."
See Also
The actress also recently revealed that she would not have gastric bypass surgery to aid in her weight loss.
Among the factors threatening their fairy tale? Jack's spiraling insecurities over Rebecca's decision to pursue her musical aspirations and ditch their brood to go on tour with an old-flame band mate, compounded by his drinking relapse. "They're going to be dealing with anger, hurt, pain. It's a struggle," Ventimiglia says. "During filming, Mandy and I—who've been side-by-side every step of the way this season—had to stay apart between scenes, because the work dictated it." The result, says Fogelman, was well worth it: "It's heartbreakingly beautiful, tour de force stuff."
Before the credits roll, the couple—and the series itself, which has already been renewed for two more seasons—will be drop-kicked into uncharted territory. "The reaction is absolutely going to be, 'I can't believe this is happening to Mom and Dad," Ventimiglia says. In fact, whatever ultimately transpires is so potentially destabilizing that Fogelman is a tad worried about how folks will respond to these beloved characters engaging in such unlovable behavior. "I'm both nervous and proud that we're going for it," he says. "We're trusting the audience will go with us."
Given the level of attachment that fans have to this fictional clan, they're sure to shout their opinions from the rooftops. "Out on the streets, I get stopped all the time and told that we're making a difference. There aren't many programs that sink into people's psyches and have this kind of impact," Ventimiglia says. Even the cast has yet to develop an immunity to This Is Us's uncanny ability to press buttons and, yep, bring on the waterworks. "We're all on a group-text chain," Ventimiglia says, "and whenever we watch an episode, we send around pictures to each other and say, 'Here's a photo of you making me cry!'"
This Is Us, Season Finale, Tuesday, March 14, 9/8c, NBC