'Nashville' Shocker: The CMT Show Says Farewell to a Fan Favorite
[Spoiler alert! This post contains massive spoilers for the February 23 episode of Nashville. You have been warned!]
The music has stopped for Nashville's Rayna James (Connie Britton).
There were a few brief moments at the end of the February 16 hour where it looked like Rayna, in the aftermath of her confrontation with her stalker, would be safe. But when the police car she was traveling in was struck by a truck, it became apparent things weren't okay.
The February 23 episode had the beloved Nashville wife, mother and superstar seemingly overcoming her initial post-crash injuries. But, ultimately, her organs shut down…and after her grieving husband and daughters sang at her bedside, Rayna Jaymes died. And though she has had multiple brushes with death, this time it'll stick, as Britton exits the ABC-turned-CMT drama series.
Check back tomorrow at 9:30AM ET for our interview with showrunner Marshall Herskovitz.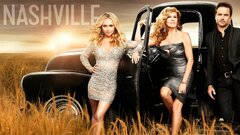 Powered by