Lindsey Vonn's Comeback Continues at the FIS Alpine Skiing World Championships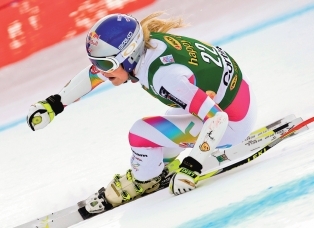 After knee injuries dashed her Olympic hopes last year, Lindsey Vonn is the newly crowned Queen of the World Cup. Next up, the world championships of Alpine skiing, which begin Tuesday in Vonn's adopted hometown of Vail, Colorado. Sounds perfect, right?
"If there's a place to beat Lindsey Vonn, it's in her backyard," counters NBC reporter Steve Porino. The Raptor course at Beaver Creek has greater technical difficulty than so-called glider's courses, where Vonn's size and power give her an advantage. "The playing field against her is much more level on that hill maybe than any other hill on the World Cup," Porino says.
Though Vonn, 30, has trained on the course, she missed the only previous racing there, at a World Cup in late 2013, while she was rehabbing her knee. That gives another slight edge to Austrians Anna Fenninger and Elisabeth Goergl and Switzerland's Lara Gut.
A few weeks ago, Vonn won her 63rd World Cup race, breaking the 35-year-old record held by Annemarie Moser-Proell of Austria. Porino compares the feat to "unseating Michael Jordan."
It happened nearly two years after Vonn, the 2010 Olympic downhill gold medalist, shredded her right knee in a super-G crash at the 2013 world championships. A fall in a World Cup race in December 2013 led to more surgery and forced her to miss the 2014 Winter Olympic Games in Sochi, Russia.
The chance to compete in the world championships at home–and ultimately the 2018 Winter Games–spurred Vonn's comeback. "Of all her talents," Porino says, "grit and determination top the list."
2015 FIS Alpine Skiing World Championships TV Schedule
Tuesday, February 3: women's super-G (1:00pm/noon c, NBCSN)
Wednesday, February 4: men's super-G (1:00pm/noon c, NBCSN)
Friday, February 6: women's downhill (1:00pm/noon c, NBCSN)
Saturday, February 7: men's downhill (2:30pm/1:30c, NBC)
Sunday, February 8: men's super combined, downhill (noon/11:00am c, Universal Sports); men's super combined, slalom (5:00pm/4:00c, NBC)
Monday, February 9: women's super combined, downhill (noon/11:00am c, Universal Sports); women's super combined, slalom (4:00pm/3:00c, NBCSN)
Tuesday, February 10: nation's team event (4:00pm/3:00c, Universal Sports)
Thursday, February 12: women's giant slalom, first run (noon/11:00am c, Universal Sports); women's giant slalom, final run (4:00pm/3:00c, NBCSN)
Friday, February 13: men's giant slalom, first run (noon/11:00am c, Universal Sports); men's giant slalom, final run (4:00pm/3:00c, NBCSN)
Saturday, February 14: women's slalom, first run (noon/11:00am c, Universal Sports); women's slalom, final run (4:30pm/3:30c, NBCSN)
Sunday, February 15: men's slalom, first run (noon/11:00am c, Universal Sports); men's slalom, final run (4:30pm/3:30c, NBC)