'Catastrophe' Stars Reveal Season 3 Premiere Date in New Teaser (VIDEO)
Season 3 of Amazon's Catastrophe finally has a due date. The London-set comedy—about an American man (Rob Delaney) and an Irish woman (Sharon Horgan), who get married after a week-long affair ends with her pregnant—will start streaming in full on April 28. Delaney and Horgan (who also created and write the series) revealed the news in this teaser, in which they also answer Newlywed Game-type questions about each other.
No news yet on how the show will deal with the recent death of Carrie Fisher, who plays Delaney's character's mother. The actress had just wrapped her role in season three when she suffered a fatal heart attack on the flight back to Los Angeles. She died four days later.
Catastrophe, Season 3, April 28, Amazon Prime Video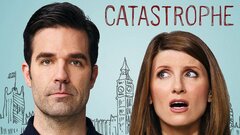 Powered by