Teri Hatcher Joins 'Supergirl' as Mystery Villain
Stop the presses! Teri Hatcher—who once rocked Metropolis as the Daily Planet's star reporter Lois Lane on Lois & Clark: The New Adventures of Superman—will be hanging with the caped crowd again when she joins Supergirl for a multi-episode arc this winter.
RELATED: The Flash and Supergirl 'Duet' Right in Musical Crossover Episode
There is no word on who the Desperate Housewives alum is playing or if she will share scenes with former Lois &Clark co-star Dean Cain (who recurs as Kara's missing father, Jeremiah), be we do know Hatcher's character will wind up being the Big Bad of Season 2.
RELATED: Chyler Leigh on How Alex's Coming Out on Supergirl Has Inspired Thousands
"No offense to any of the wonderful actresses who have also played the part, but Teri Hatcher is my all time favorite Lois Lane," executive producer Andrew Kreisberg said in a statement about the actress's casting. "To have her come back to the SuperWorld in a completely different part is an unbelievable gift to me, Greg, and the fans."
Is this super news for you? Let loose in the comments section below!
Supergirl, Mondays, 8/7c, The CW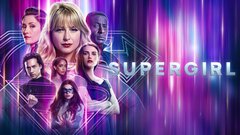 Powered by