Nick Kroll on 'Tackling the Big Issues' in The Kroll Show's Final Season
Having properly mocked Canadian teen dramas, docusoaps, and septuagenarian pranksters, comic Nick Kroll is sticking a fork in his pop-culture-skewering sketch-comedy gem, which just began its third season. In the words of PubLIZity's Liz, that is so not amazzeeeeeng.
Why end it now?
I feel like we made the show I wanted to make. And some of the shows that inspired me are British; they make a show for 12, 18, 24 episodes and then are like, "OK, that is how long this is supposed to be," and they move on to make something else. Then the U.S. buys that show and tries to make it again and ruins it. [Laughs] Although I did think the American adaptation of The Office was brilliant and that clearly ran for more seasons.
Do you tie things up for everyone? Like, will we see how things turn out for the girls of PubLIZity?
You will see a full story with them. They have some financial issues this year. Pretty Liz, played by Jenny Slate, takes the reins because my Liz gets bangs and throws everyone into a major frenzy. So, obviously, you see we're not pulling any punches this season. We're tackling the big issues. [Laughs]
Which characters will you miss the most?
It really depends on my mood. They're all so fun to do at different times. When I am missing my mom, I think about [mama's boy] Bobby Bottleservice. When one of my friends is being ridiculous, I think about Pretty Liz and Liz from PubLIZity. When I am debating getting my [penis] pierced, I think about C-Czar. [Laughs]
Any chance we'll see any of them in another project?
No immediate plans, but I love doing them and assume many of them may come up later. It's like high school graduation: You hope to run into some of them. The ones you don't, what a great time you had together.
Your other gig, on FXX's The League, is wrapping up this year as well.
Yeah, I've been so lucky that I got to be involved with these shows. I'm also in the final season of Parks and Recreation…[radio shock jock] the Douche makes an appearance!
Kroll Show, Tuesdays, 10:30/9:30c, Comedy Central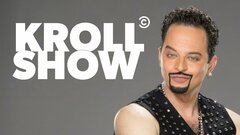 Powered by