Gage Hubbard Reveals 11 Things You Need to Know About 'Face Off' Season 11
The cinematic makeup effects series Face Off returns for Season 11 on Jan. 24, and for this newest installation, Syfy has enlisted old faces while up to new tricks. McKenzie Westmore is back as host, and her father, legendary makeup artist Michael Westmore, returns as series mentor. Glenn Hetrick, Ve Neill and Neville Page will serve as this season's judges, and they will be joined by a number of celebrity and industry experts as guest judges.
RELATED: Syfy Plots the Returns of The Magicians and The Expanse
This season, 16 former contestants return to the cosmetic competition for a second chance at bragging rights, and we spoke with Season 1 contestant Gage Hubbard for all the dish you need to know.
1. Face Off Season 11 is much different from Season 1
Gage Hubbard: "I feel like in Season 1, we were kind of roughing it, compared to what it is now. It is a much bigger show now, so it's a little bit intimidating, but, at the same time, it's really great to see. At least, from my standpoint, because when we did the first season there was a general consensus that it may succeed—or it may not."
2. Gage wanted a second shot
"The first season, I worked really hard and made it to the top three. For Season 5, they did 'Vets versus Rookies,' and I was a little bummed that I wasn't asked back for it. So when the show called and said, 'Hey, we're pulling the trigger on an official all-stars season and we'd really like to have you,' I told them, 'I've been waiting six years for this call!'"
3. He's changed in 6 years
"It's been a while since people have seen me on the show," Hubbard laughs, saying that it takes people a moment to place where they've seen him before. "I was on Face Off six years ago, and I looked drastically different. Now, I have a beard and a lot more tattoos, and I started to go to the gym a lot after the first season."
4. Gage is jealous of a previous Face Off challenge
"The water tank challenge from Season 2 is my all-time favorite Face Off challenge. It still upsets me that I never got to do it. I would have killed it. Creating a waterproof makeup would be the funnest thing in the world. So, I would have loved to have done the water tank challenge, and I really liked the Tim Burton challenge, also from Season 2."
5. This season is "team trouble"
For Season 11 of Face Off, the returning All-stars will compete as teams of 2, and Gage is paired with Season 7 contestant Rachael Wagner. Also returning from previous seasons are: Adam Milicevic (Season 8), Ben Ploughman (Season 9), Cat Paschen (Season 6), Cig Neutron (Season 7), Emily Serpico (Season 8), Evan Hedges (Season 9), George Troester (Season 7), Jasmine Ringo (Season 9), Keaghlan Ashley (Season 7), Logan Long (Season 8), Melissa Ebbe (Season 10), Niko Gonzalez (Season 6), Stella Sensel (Season 7) and Tyler Green (Season 6).
6. "Team Rage" is more than a portmanteau
"My whole idea behind 'Team Rage' was a line from the Dylan Thomas poem: "Do not go gentle into that good night. Rage, rage, against the dying of the light." It was more about our stance in the competition—and being good but fierce competition, and sticking with that by raging against the dying of the light."
7. To get ready for Face Off, Gage and Rachael worked together
When Hubbard learned that Wagner was his partner a few weeks before taping began, he found a project for them to work on together. "I was familiar with Rachel's work from the show, as was she with mine. I said, 'Look, I have some jobs coming up. Why don't you come up, I have a commercial I'm doing in Brazil. I have this other thing I'm doing here in Los Angeles. Why don't you come on and help me? Let's get a feel for one another.' A lot of the other teams had worked with each other, prior to the show, and we hadn't had that luxury.
"She agreed, and we went to Brazil together, and we did another job together. We really got to feel each other out, in terms of what were our strengths and weaknesses. I think that's the biggest strength of ours—we are very honest with each other."
8. There are twists aplenty this season.
When we asked, "Is your partnership with Rachael something that will last all season long?" Gage demurred and deflected, saying, "I don't know. I think people will just have to tune in and find out. I love working with Rachel, and she's an amazing partner to have, but time will tell if we last through the whole season…or not." So read into that what you will…
9. The season starts with a splash
Hubbard mentioned his favorite challenge is this season's first, where contestants create makeups based on underwater creatures and get to use green-screen technology for the first time in Face Off history. He shares, "It was such rich source material; any time that you're doing a sea creature, hybrid, that's always really, really, fun." He also notes, "We didn't get to see each other's pieces on the green screen! We still have no idea what each other's pieces look like until we watch the actual episode on the 24th."
10. Gage reveals his biggest competition
"I tried to look at everybody as competition," Gage reveals. "But in the initial challenge, I remember thinking that Emily was going to be very stiff competition. I loved her on the show; I loved all of her work. From a design standpoint and application standpoint, she's incredibly strong. And her painting skills are still some of the most phenomenal that I've ever seen."
11. Gage is this season's jokester
"I feel like I was the one that was the biggest jokester. I was the one that was certainly the loudest jokester because my thing is that it's really important for me to make sure people around me are having a good time, and laughing, but also that they're putting forward their best work. I feel like laughter and having fun is very conducive to a working environment and creating artistic works.
"I was always the one putting on a wig or acting really silly. Even when we were back at the house, I tried to make people laugh, and make sure everyone's having a good time. I also have a really odd sense of humor and the one that really picked up on that was Ben Ploughman. Ben is the more silent jokester, and I'm like the really loud jokester, and I would say Logan is the more serious one of the bunch. I was always trying to make Logan laugh, and he was always like, 'Oh. Okay, calm down.'"
Face Off: All Stars, Tuesdays beginning Jan. 24, 9/8c, Syfy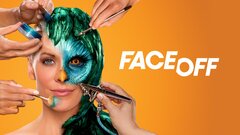 Powered by