'Winning Time: The Rise of the Lakers Dynasty' Canceled After Shocking Twist
Following the second season finale of Winning Time: The Rise of the Lakers Dynasty on Sunday, September 17, the show's creator, Max Borenstein, confirmed the HBO sports drama has been canceled.
"Not the ending that we had in mind. But nothing but gratitude and love," Borenstein wrote on Twitter/X on Sunday night, seemingly confirming the premature end of the show.
Director Salli Richardson shared a similar message on her Instagram, writing, "When you give it everything you've got, you can have no regrets. I hope you enjoy the last episode of @winningtimehbo I am sure I will do many more hours of TV and hopefully many features in my future, but I can say that at this moment in time I am most proud of the work we did on this masterful show."
Not the ending that we had in mind.
But nothing but gratitude and love. #winningtime

— Max Borenstein (@MAXBORENSTEIN) September 18, 2023
View this post on Instagram
Sunday's finale had a shocking twist which makes it even more heartbreaking that the show won't be coming back for Season 3. It focused on the Lakers' stunning loss to the Celtics during the 1984 NBA finals. Had the show returned for a third season, it was expected to highlight the Lakers' comeback when they beat the Celtics the following year.
"In real life, the Lakers come back and beat the Celtics the next year. So that would absolutely be at the heart of any Season 3," executive producer Kevin Messick told The Wrap before the cancelation was confirmed.
Messick added, "In terms of the longevity of the show, there's a lot more Laker stories to tell, a lot more characters, larger than life, as big and bigger than Magic [Johnson] and Kareem [Abdul-Jabbar] that have yet to enter onto the stage."
Based on Jeff Pearlman's book Showtime: Magic, Kareem, Riley, and the Los Angeles Lakers Dynasty of the 1980s, the HBO series premiered on March 6, 2022, and was quickly renewed for a second season in April of that same year. According to Deadline, the Season 1 finale managed to amass 1.6M same-day viewers.
The series starred John C. Reilly, Adrien Brody, Michael Chiklis, Jason Segel, Jason Clarke, Gaby Hoffman, Hadley Robinson, DeVaughn Nixon, Gillian Jacobs, and many more.
Last month, Pearlman took to social media to urge fans to watch the second season, letting them know that the show's future was up in the air.
"I'm telling you — the future of Winning Time hangs in the balance. We need viewers. The strikes are crippling. Please help spread the word. Season 2 is amazing. But … HBO is big on #s," he tweeted.
And, to be blunt, I'm worried there won't be a season three. And it's not about me. I'm fine. It's about a cast of amazing young actors who live this. So, seriously, tell your friends to support "Winning Time" and show @hbo you want it to continue. Peace. #winningtime https://t.co/1KD2uKOY16

— Jeff Pearlman (@jeffpearlman) August 16, 2023
"And, to be blunt, I'm worried there won't be a season three," he continued. "And it's not about me. I'm fine. It's about a cast of amazing young actors who live this. So, seriously, tell your friends to support "Winning Time" and show @hbo you want it to continue. Peace. #winningtime."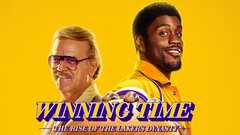 Powered by