'The Challenge' Turns 25: 7 Controversies From the MTV Show
With more than three dozen seasons and more than 500 episodes to date, The Challenge is unquestionably one of MTV's biggest hits. The show premiered on June 1, 1998, as Road Rules: All-Stars, a Road Rules spinoff starring cast members from The Real World. Since then, the series has undergone other transformations, rebranding as Real World/Road Rules Challenge and then just The Challenge and incorporating stars from other reality shows.
And along the way, controversy after controversy has piled up both on screen and off, as you'll see below.
Content warning: This article covers racist comments and allegations of sexual assault.
Tonya Cooley's lawsuit
In 2011, The Challenge alum Tonya Cooley sued MTV, Bunim/Murray Productions, and former costars Evan Starkman and Kenny Santucci, alleging that Starkman and Santucci sexually assaulted her when she was passed out during the taping of Season 18, a.k.a. 2009's The Challenge: The Ruins, per E! News.
Bunim/Murray denied the allegations, telling E! that after a "thorough investigation," the company found Tonya Cooley's claims "completely baseless."
The case was settled out of court in 2012, and the parties are legally barred from discussing the alleged incident, E! adds. Us Weekly reports that Cooley, Starkman, and Santucci are all banned from the show.
Camila Nakagawa's racism scandal
Camila Nakagawa dropped racial slurs in an argument with costar Leroy Garrett during 2017's The Challenge: Dirty 30, according to E! News. Garrett later revisited the incident in a 2021 Instagram video, saying it was unacceptable that no one in the production stepped in to stop her. Nakagawa responded to Garrett's Instagram post with a video of her own, telling fans she does "not condone racism" and that she was taking anti-racism courses, per People.
Georgia Harrison's black face makeup
In 2019, Twitter users accused The Challenge competitor Georgia Harrison of blackface — and called for MTV to fire her — after a photo of her wearing black makeup circulated, as People reported at the time. A rep for the reality star told People that the allegations that Harrison was racist were "disgusting and really worrying" and claimed that the photo came from a child's birthday party during which the child asked for Harrison's face to be painted black and silver.
Dee Nguyen's Black Lives Matter comments
In 2020, MTV announced on Twitter it had cut ties with frequent The Challenge competitor Dee Nguyen after she made "offensive comments on the Black Lives Matter movement."
In one Instagram comment, Nguyen had minimized the killing of George Floyd by saying that people "die every f–king day," according to Us Weekly.
Nguyen later apologized for her "insensitive" remarks, per Us. "Let me be clear, I am a POC that cares about BLM," she added. "I believe in this movement, and I'm stepping away from social media to focus on my wellbeing and mental health."
Lauren Coogan's gaslighting accusations
After Lauren Coogan was cut from Season 37, a.k.a. 2021's The Challenge: Spies, Lies & Allies following the first episode, she claimed in a now-deleted tweet (via Us) that she had been "gaslit and scapegoated" by a major network.
She went on: "Reality TV is supposed to be a source of entertainment and fun. To break the monotony of real life for the audience. We didn't sign up to be role models or politicians. We are just people figuring it out (in front of millions) both brave and crazy enough to put our lives out there for the pure amusement of whoever chooses to watch."
Days later, Coogan dodged a question about her Spies, Lies & Allies exit in an Instagram Q&A. "I don't really want to answer because it was so traumatic and led me into a lot of therapy and counseling and the worst time of my life," she wrote.
Cory Wharton's vaccine refusal
Later that season, The Challenge's Cory Wharton told fans he'd have to miss the Spies, Lies & Alliescast reunion because of the production's vaccine requirements. "No Challenge reunion for me, they said, due to my vaccination status," he wrote in a now-deleted tweet, per Us. "They are really are strong-arming people nowadays."
Fans of the MTV show criticized Wharton for his stance. "People will die because you choose to expose others and spread a virus. #vaccineswork #doitforyourdaughter," one person tweeted, as Us reported.
Ashley Mitchell's early exit
As Spies, Lies & Allies continued, Ashley Mitchell was disqualified offscreen, with The Challenge host T.J. Lavin telling the other competitors only that she had broken the rules, per Entertainment Weekly. The night that episode aired, Mitchell tweeted that she was "mad at [herself" and "taking anger management and reflecting a lot."
But in a live episode of the podcast Challenge Mania this December, costar Josh Martinez offered details on what went down between him and Mitchell: "I think it was a missed opportunity for [the show] to show something real, not only that I've been through and experienced but something out there that a lot of people out there go through," he said. "At the end of the day, she attacked something that a lot of people struggle with, and it's nobody's business. Not only that, she shouldn't have gone that low."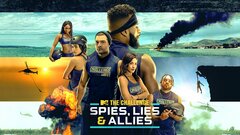 Powered by