'Young Sheldon' Finale: The Coopers Have a Tense Ride to the Airport in First Look (VIDEO)
Rides to the airport can be an intense experience, especially if you're running late for your flight, but the Coopers are experiencing a different kind of tension during their journey in TV Insider's exclusive sneak peek clip from the Young Sheldon Season 6 finale, "A Tornado, a 10-Hour Flight and a Darn Fine Ring."
Airing at 8:30/7:30c on Thursday, May 18, the episode sees Sheldon (Iain Armitage) and Mary (Zoe Perry) preparing to head off to Germany, while the rest of the Cooper family braves a tornado heading straight for Medford. In the video, above, tensions flare between Missy (Raegan Revord) and Sheldon, to whom she appears to be giving the silent treatment.
Setting the tone for the ride, Sheldon tells his father George (Lance Barber), "When we get there, you'll be looking for international departures."
"Well, thanks for letting me know Germany is in a different country," George responds sarcastically.
Sheldon isn't too pleased, questioning, "Is he joking? I'd like to believe he's joking."
This is when Mary steps in to reassure Sheldon that George is joking. "He's a football coach, I don't know what he does," Sheldon defends his concern.
"Should I make her take those off?" Mary then asks George, pointing out Missy's headphones. He can't understand why she'd want to disrupt their otherwise quiet ride. "Don't feel bad, mom. She's mad at me, not you."
See the simmering annoyances raise their heads when Missy's asked to take her headset off in the clip, above, and stay tuned for the two-episode Season 6 finale airing Thursday, May 18 on CBS.
Young Sheldon, Season 6 Finale, Thursday, May 18 8/7, CBS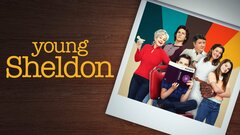 Powered by