'FBI: International' Sneak Peek: Can Smitty Save Her Brother's Job? (VIDEO)
The May 9 episode of FBI: International is going to be personal for Europol Agent Megan "Smitty" Garretson (Eva-Jane Willis), and TV Insider has an exclusive sneak peek.
In "A Traditional of Secrets," after a cybersecurity expert robs one of Switzerland's largest and most secretive banks, the Fly Team — including new member Damian Powell (Greg Hovanessian) — is called to track down the fugitive, and Smitty's loyalty is put to the test.
As our clip shows, it's Smitty's brother Christopher (Mark Strepan) who calls her for help; he works at the bank. "There she is, my hero," he greets her at the airport before going on for a bit too long about how she looks amazing. "You really don't need to kiss up. I've already said I'd help," she reminds him.
"I can't tell you how much this means. This is the first full breath I've taken in 24 hours. My own personal secret agent to the rescue," Christopher says as he leads her out to his car. She's happy to see him, despite the circumstances, which are "I'm screwed," he informs her. He was the one to bring in the person that needs to be found to head up the information security department, he explains. They had a history, from working together in London, so Christopher vouched for him. The only problem? He's not exactly reliable.
"If you can't track him, somebody at the bank is going to have to take the fall, and I'm quite certain it's me," he explains. Smitty's surprised when she sees his fancy, expensive car. "If I bring financial ruin to the bank, I'll never be hireable again. I could lose all of this," he worries.
Watch the sneak peek above for more, including Smitty explaining why she's called in the Fly Team.
Can Smitty help her brother? We just hope this doesn't backfire.
FBI: International, Tuesdays, 9/8c, CBS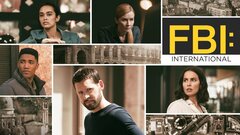 Powered by