'Call Me Kat' Canceled After 3 Seasons at Fox
What felt like a fitting end to Call Me Kat — the entire cast and crew waving (and Cheyenne Jackson wearing a shirt for the late Leslie Jordan), like the stars usually do at the close of episodes — is just that.
Fox has canceled the Mayim Bialik-led series after three seasons. "We are very proud of Call Me Kat. But, unfortunately, the audience response to it was not as strong as we had hoped. We are thankful for our partnership with Warner Bros. Television, That's Wonderful Productions, Sad Clown Productions, BBC Studios, Mayim Bialik, Jim Parsons and the entire cast and crew for their work and dedication to Call Me Kat," the network said in a statement.
At least what is now the series finale, "Call Me a Donut Wall," which aired on May 4, didn't leave the characters' futures too up in the air. Kat (Bialik) drove Max (Jackson) to the airport for a great career opportunity (one she insisted he take), and they both said "I love you" before he left. That suggested that the exes could find their way together again in the future.
As for Randi (Kyla Pratt) and Carter (Julian Gant) they nearly got married at the courthouse, only to decide they did want to have a big wedding with their loved ones present. The series also starred Swoosie Kurtz.
The Call Me Kat cancellation comes the same week that Fox opted to renew 9-1-1: Lone Starwhile 9-1-1 will be returning for its seventh season — but moving to ABC. Fox also canceled The Resident after six seasons in April, months after the finale. Meanwhile, Accused, Alert: Missing Persons Unit, Bob's Burgers, The Cleaning Lady, Family Guy, The Great North, and The Simpsons have all been renewed for the 2023-24 season.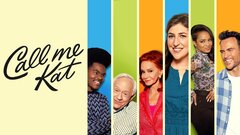 Powered by