Banshee: 'Not One Character Is Safe' In Explosive Season 3
2015 Preview | Returns Friday, Jan. 9, 10/9c, Cinemax
Banshee opens its third season with a bang. Make that a bang, bang, bang.
The crime thriller's addictive cocktail of outrageous mayhem and copious sex blended with a dark story of love, revenge, and identity has made the show Cinemax's highest-rated original series and a linchpin (along with The Knick) in the network's strategy to win critical respect.
Those ingredients are all there from the opening chase, when ex-con antihero Sheriff Lucas Hood (Antony Starr)—name and title stolen from a dead lawman—dispenses his own brand of justice to a neo-Nazi who last season killed a beloved African-American deputy.
The master thief turned cop should conserve his ammo; he'll soon be facing off against a host of human monsters. For the moment, however, things are relatively copacetic in rural Banshee, Pennsylvania, the violence-prone burg that's Lucas's adopted home. Now that his longtime pursuer, Ukrainian mobster Rabbit, is dead, there's no immediate threat on his life. In this respite, he's trying out domesticity with his deputy, Siobhan Kelly (Trieste Kelly Dunn). "Lucas is examining how he can make this work," Starr explains. "It's a safe place for him." But is it safe for Siobhan? Cocreator Jonathan Tropper cautiously notes, "Can a man whose life is a lie be capable of a true relationship?"
Perhaps not when there's one last big score beckoning. The larcenous lawman hatches an audacious scheme to heist a multimillion-dollar stash from a Marine base commanded by the corrupt and, to quote Tropper, "f—ing bonkers" Col. Douglas Stowe (Langley Kirkwood). To pull it off, Lucas rounds up his loyal crew, including Rabbit's daughter, Anna (Ivana Milicevic), his former lover now known as Carrie Hopewell. Although Carrie's marriage to the town's mayor has ruptured, Lucas doesn't want her back. Not yet, anyway. "Carrie and Lucas are twin souls," Starr says, "but they're not necessarily good for each other."
While he plans, Lucas's foes are making schemes of their own. Chayton Littlestone (Geno Segers), the self-styled avenging Native American warrior, is raising an army to wreak havoc on the town. As for the town's ubiquitous crime boss, Kai Proctor (Ulrich Thomsen), he's dealing both with his competition and his own existential angst. "Like Lucas, he has a new love and he's trying to figure out if he can get away from the person he's been," Tropper says.
Navel-gazing won't deter what Starr calls "nonstop high stakes" as Season 3 progresses through its bloody paces. "Episode 5 is absolute crackers—full of heart-wrenching dramatic tension and huge action sequences that shift gears on the whole season," he says. "Not one character is safe."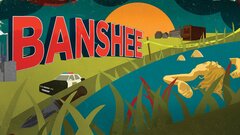 Banshee
where to stream
Powered by