A Danny-Baez Romance on 'Blue Bloods'? Marisa Ramirez Isn't So Sure
Marisa Ramirez has played NYPD Det. Maria Baez, partner to Det. Danny Reagan (Donnie Wahlberg) on CBS' hit police family drama Blue Bloods since 2013, and she's still having the time of her life.
Now, the actress is giving us the skinny about what's it like to work closely with the actor, director, and singer, whom she first saw performing at a New Kids on the Block concert at Dodger Stadium when she was in middle school. She also shares her thoughts on the future of Danny and Baez — are they better as BFFs or romantic partners?
Ramirez sounds off below.
Your fans love your characters as police partners and best friends. Could there ever be a romantic connection? Many fans hope for that.
Marisa Ramirez: It's really tough. They're just so great as work partners and, as you know from the Jamie (Will Estes) and Eddie (Vanessa Ray) storyline, once they become personally entangled, it became very difficult. So Maria and Danny may not even be allowed to work as partners anymore. And I think that's where they're happiest, getting to spend the day working together. I know that fans do want that romance, but I think it's more fun to just kind of tease whether we can go there or not.
When I talked to Donnie Wahlberg recently, he described the May 12 Blue Bloods episode as a "really special" one that will excite fans because of the intimacy that Danny and Baez will share. There seems to be wine and a "sort of sleepover" involved at the home where she lives with her baby.
At the end of the season, Baez adopted a baby girl, but there haven't been more than a couple of mentions since then. It's really exciting that we will get into Baez's personal life, which gives Danny a chance to learn more about her past. After working so long with somebody, inviting them into your home where you live with your child changes the relationship a bit; it makes them a little closer.
What's it like to play with Donnie all these years?
Donnie is the happiest person I know. I need that in my life. Every day I get to work and this smile and this joy greet me and it brings that out in me too. It's important to find that in this crazy business, in this crazy world.
You have your own happy space, don't you?
It's so warm and open and happy. We have so much fun together. I've ruined more than a couple of takes because I can't stop giggling and laughing and just making fun of whatever it is we're supposed to be pretending to do. [Laughs] I owe my smile lines to him! We've become very close. Recently, he introduced me to people I didn't know as his partner on the show — and his best friend. I tease him that he's my best girlfriend because I talk to him like I talk to my girlfriends. I tell him everything and he knows everything about me. I'm so lucky that he's that way.
His wife Jenny McCarthy is a very lucky woman.
Oh, they have such a good time together. They're creative and funny, always making Instagram videos. They have the best relationship.
Let's talk about some spur-of-the-moment, very cute photos of you and Donnie on location in Times Square this past January. In one of them, you're both leaping in the air — well, Donnie is half-leaping. What's going on there?
We were shooting outside on a crosswalk in the street when a photographer we knew came by. I said, "This is so amazing. We're out at night and there's so many lights." Then Donnie looks at me and says, "Jump really high 1, 2, 3, jump!" And I did. And the photographer took the shot. I go along with things because Donnie has the best ideas. I would never say, "Wait a minute, what's this for?" He has such an electric energy that you do [it] because it will be fun whatever it is.
In another photo, it seems he asked you to dance. Do you and Donnie sing and dance on the set?
[Laughs] Yes. I don't sing, but he raps a lot. We do always dance. There's no music playing, but we hear our own music and dance and shake it out in between scenes.
The April 14 episode has a storyline that sounds pretty amusing. There's a massive brawl at a huge Italian wedding that the cops, including Baez and Danny, have to break up.
Donnie was in that scene. Baez shows up later to question people. There were a lot of background players involved and the set was very messy with pieces of wedding cake strewn around everywhere. It's going to be fun to watch.
Blue Bloods, Fridays, 10/9c, CBS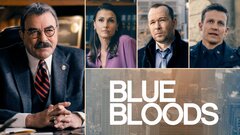 Powered by